Discover more from Movements
A monthly newsletter covering emerging trends in mobility services and transportation.
Over 4,000 subscribers
Movements | August 20th, 2018
Micromobility
Portland loves its scooters! Check out these updated usage stats from PBOT on the first 3 weeks of the program:
Total number of trips: 96,255

Total distance ridden: 163,405 miles

Average trip length: 1.7 miles
A great analysis on the critical role of open data for mobility services from Asher: "Requiring open access to vehicle locations, which apps like Transit app, Citymapper and Moovit can then display to users, enhances the user experience while promoting innovation and competition among rival firms." If you can see all of the options in one place, you're less likely to rely exclusively on the service with the greatest integrated supply.
Pony Bikes is gearing up for it's new 'Adopt-a-Pony' program, a decentralized ownership model for bikeshare fleets. Users can purchase bikes upfront, Pony manages the local operations of it, collect the revenue, and give a share back to the bike owner. | Medium
Spin is transitioning its DC dockless bikeshare fleet to an all scooter fleet, while it exits the Seattle dockless bikeshare market all together, citing high fees of $250,000 per operator. | Geekwire
Here are all of the scooter and bike applications for Santa Monica. There are a few salient things that we noticed:
JUMP/Uber are offering a major carrot here: "JUMP/Uber plan to add another level of data that we plan to share with the City of Santa Monica, if selected as a vendor: multi-modal data that will show the City how and to what extent residents who previously travelled by car via the Uber platform are now shifting to bikes. We believe this data set will be critical to Santa Monica's understanding of shared transportation use"

JUMP is offering to co-develop geofenced parking incentive zones with the city and Lyft is offering to implement geofencing for no parking areas

Multiple submissions reference compliance with LADOT's mobility data specification

Lyft is offering major subsidies for trips that start and end around transit stops and they will prominently display bike lanes within their app to encourage safe riding
According to a Morning Consult survey, the scooter form factor is much more appealing to urban adults: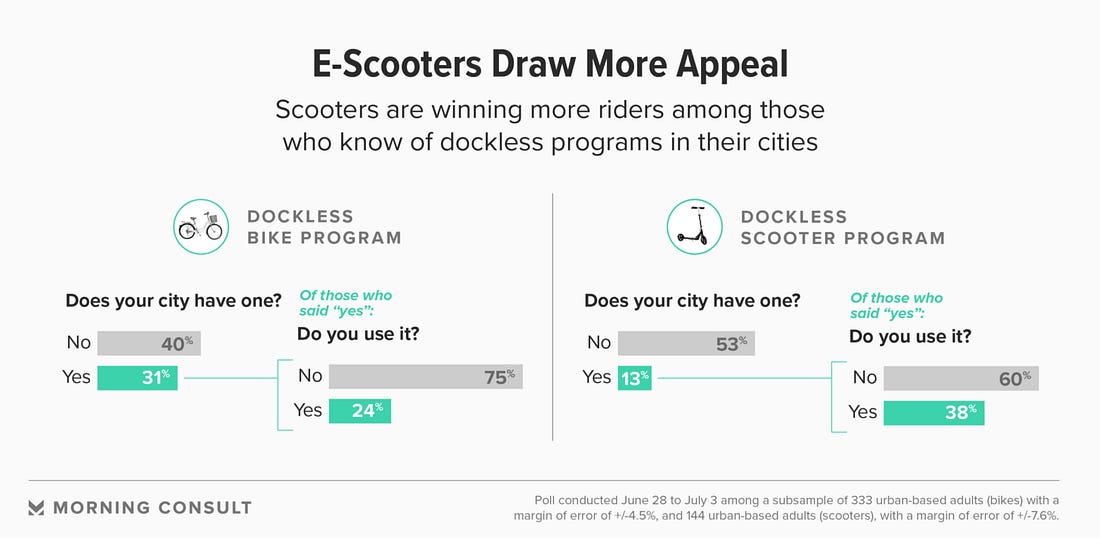 Auto OEMs
Another really good piece on how we have already hit peak levels of car ownership. Some interesting highlights: "And yet BMW's own estimates show that in a decade, one car-sharing vehicle will replace at least three privately owned ones, and mobility services, including autonomous cars, will account for a third of all trips." | Bloomberg
French automaker PSA is expanding its Free2Move trip planning and booking app as well as their car-sharing service in a US city in the next few weeks. "The automaker will use a leasing partner for about 600 vehicles for that service." Given that PSA vehicles are unavailable in the US, what OEM are they going to use? | AutoNews
Cities
The New York Times Editorial Board comes out in favor of adding scooters to NYC's streets, | NY Times
Why is it easier to regulate scooters and hard to regulate TNCs? State preemption laws. | Mobility Lab
In San Francisco scooter permit news, the city may penalize Lyft, Uber for ride-hail misdeeds. | SF Chronicle
SFCTA published a fantastic evaluation of emerging mobility services. The most exciting part is their recommendations: price access to the curb, redesign streets to reduce modal conflict, and implement congestion pricing. | SFCTA
TNCs
Daniel Ramot, the CEO of Via, explains how high-capacity, shared ride services like his are key to fixing congestion in NYC. He's right, and Via does have way higher utilization rates and driver earnings than Uber or Lyft, but I think it's unlikely that they'll get any sort of exemption to the FHV cap| Intelligent Transport
Here's an awesome deep dive on Didi and how it compares to Uber.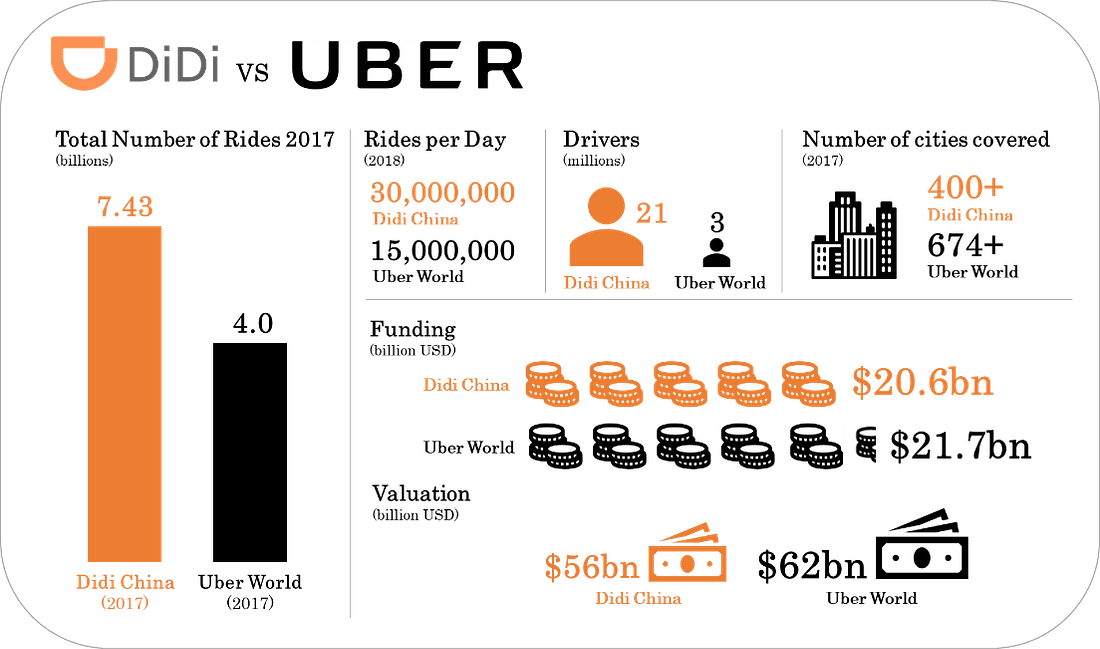 And Didi is just starting to go global! There are a bunch of other good points in there:
In addition to plenty of Uber-like product offerings, Didi has been integrated with planning and booking public transit services since 2015

Didi is running its own mini-bus service based on rider demand

Their Transportation Brain offering is being piloted as a traffic management system in 20 Chinese cities
Bloomberg estimates there are nearly 1 billion active users of digital ridehailing apps worldwide.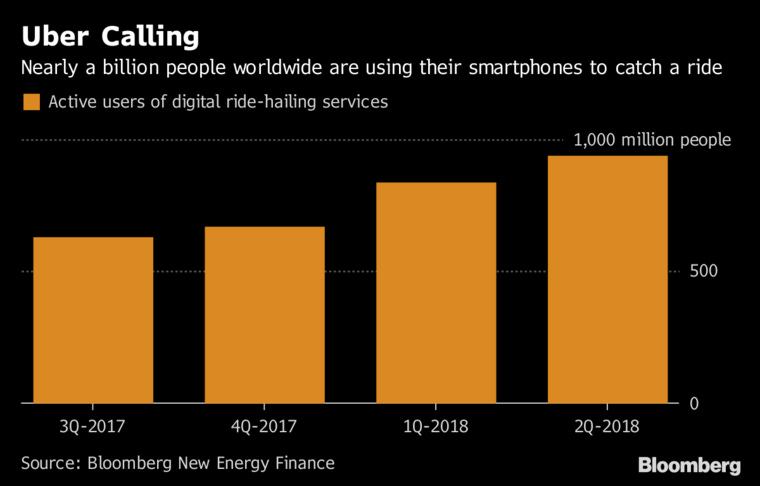 Product Launches and Updates
Facebook is starting to use Mapbox for local search results in their main Android app as well as for the basemap in their Local app. | Mapbox
Transit App launches crowdsourced, real-time vehicle locations in 175 cities | Transit App
Uber is now using machine learning to predict if a trip should be paid for with a personal or business account | Techcrunch