Discover more from Movements
A monthly newsletter covering emerging trends in mobility services and transportation.
Over 4,000 subscribers
Movements | April 23rd, 2019
Issue #44 — Brought to you by Michal Naka and Adam Feldman. Join thousands of others who receive this analysis and curation of emerging mobility news in their inbox every week — subscribe now.
---
Micromobility
Bird investor Mark Suster shares insights into how scooter companies are performing and provides a glimpse at the road ahead. "While the ride-hailing market sees autonomous vehicles as nirvana due to no driver costs, the e-scooter market already has this built in." | Mark Suster
Lime re-launches scooters in Copenhagen, joining Tier and Voi. Related: We've heard from readers that scooters are in high demand in the biking capital of the world. | Lime
Designing Google Maps for motorbikes. | Google Design
The Rideshare Guy interviews scooter insider Nick Abouzeid on the state of the industry in 2019. |The Rideshare Guy
Deloitte: Micromobility is the future of urban transportation. "To that end, as they (cities) ponder new rules for micromobility, one helpful litmus test for officials might be to ask themselves: Would such a rule ever be applied to cars? Per-trip fees, automatically enforced speed governors on vehicles, caps on total fleet size, and the public space devoted to each mode are all worth considering through the lens of car usage." | Deloitte
NACTO published some stats on shared mobility in the US in 2018. The full report is worth a read, but the standout insight is that scooter share has gone from 0 to bigger than all bikeshare in the US in under a year: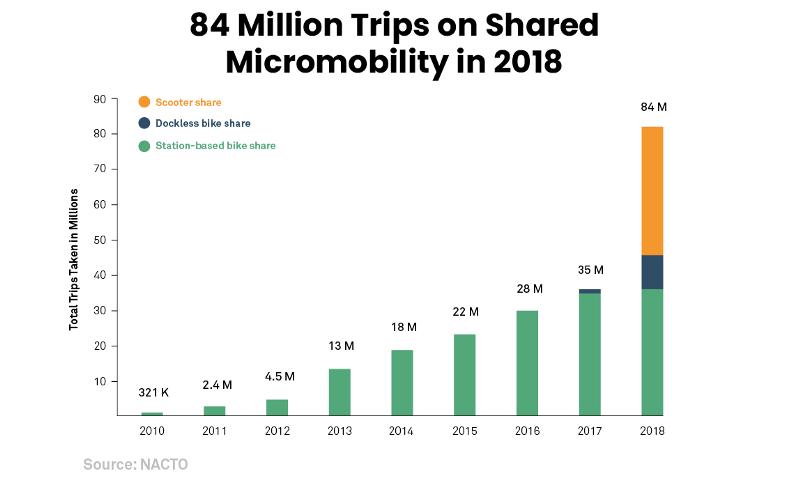 Ridehailing
Turner Novak does a deep dive into Uber's S-1 combining historical disclosures to get better picture of the state of the business. "Uber Eats rapid expansion in 2H '18 had a material impact, new Eats cities are profitable in 12–18 months, and the trend suggests 150–180 cities were profitable at the end of 2018." | Turner Novak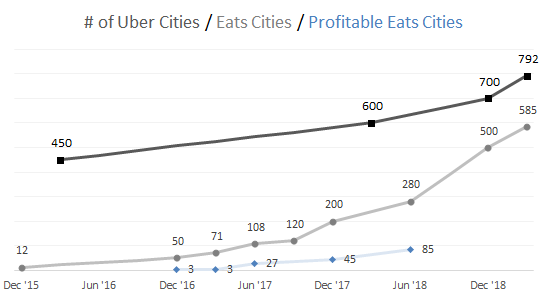 Lyft quietly shuts down their public API. "Existing developers will no longer have access." Interested parties now have to submit a request to be 'considered' for Lyft's API Developer Program. | Val
Lyft vs. Uber: A Tale of Two S-1's. "The average Uber driver on the platform in Q4 2018 took home nearly double what the average Lyft driver did!" | Benjamin Tseng
The youths are over driving: "About a quarter of 16-year-olds had a driver's license in 2017, a sharp decline from nearly half in 1983" | WSJ
New Products & Launches
Sony launches ride-hailing app 'S.Ride' in Japan to take on Uber. | Techcrunch
Speaking of Japan, Via has launched service in areas of the country where there is no public transportation. | Forbes
Mobility Mishaps
Mobility heist: Car2go had nearly 100 vehicles stolen via fraud in Chicago, forcing the company to temporarily pause operations in the windy city. |Digital Trends
An Oakland gang is using micromobility to burglarize cars in Hollywood. "The scooters give them mobility, and in Hollywwod on a weekend night with as busy as it gets, the scooters allow them to maneuver through the community almost at will." — said LAPD spokesman Cory Palka. | NBC Los Angeles
Cities & Policy
Staten Island will be getting a full dockless bikeshare system. | Crains
How Los Angeles is redesigning its bus system using location data. | Wired
All views are our own.