Discover more from Movements
A monthly newsletter covering emerging trends in mobility services and transportation.
Over 4,000 subscribers
Movements | April 9th, 2019
Issue #42 — Brought to you by Michal Naka and Adam Feldman. Join thousands of others who receive this analysis and curation of emerging mobility news in their inbox every week — subscribe now.
---
Product Launches & Updates
Coord launches Open Curbs, "a first-of-its-kind, public curb data source for city administrators, GIS analysts, transportation planners, software engineers, researchers and community leaders, to easily access and share standardized baseline curb data from a single place." With these data, planners and service operators can make better use of scarce curb space in cities. | CityLab
Deliveroo partners with Elmovo to provide electric scooter rentals to delivery drivers, saving them a hefty when London rolls out its new ULEV fees. | Restaurant Dive
Cities & Policy
Oakland DOT's 2018 Year in Review highlights the popularity of shared modes of transportation, among other good things. | City of Oakland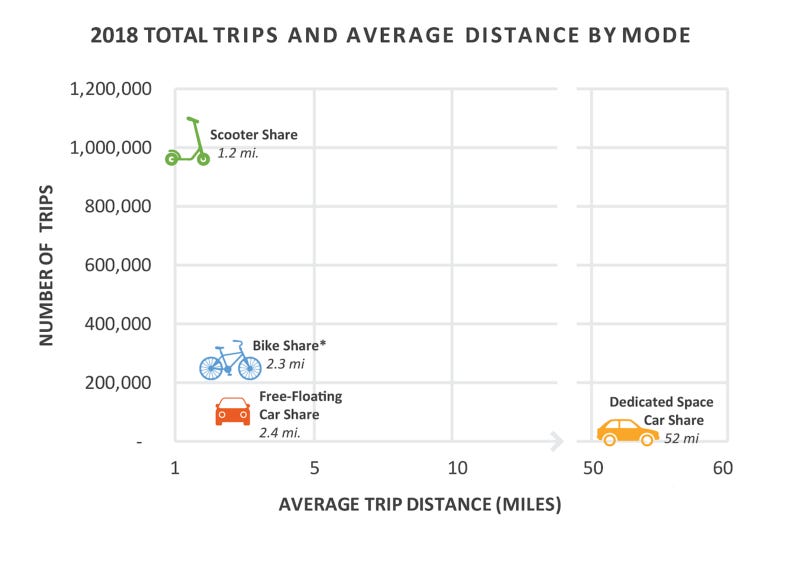 How well is American public transit sticking to its promised headways? Swiftly dives into how agencies should measure network reliability for high frequency transit lines. | Swiftly
Should the US standardize public transit fare payment? | CityLab
NPR dives into scooter injuries and blocked sidewalks in DC. "Jonathan Rogers, a policy analyst at DDOT, says that infrastructure and building safe streets are the foundation of tackling scooter-related issues". | NPR
Ridehailing
The Information provides a helpful look into the key questions underlying Uber's business ahead of their IPO. | The Information
A look at Uber's personalized dynamic pricing system. | Forbes
South Carolina bill would require TNCs to have illuminated signs. | SmartCitiesDive
Uber continues to hire for its 'High Capacity Vehicles Team" in Seattle, as its UberBus service takes off in Egypt. | Geekwire
Investments & Deals
Miles raises a $5.75m round to build out a travel loyalty program that spans multiple travel modes and encourages more sustainable behavior: "Think Audible or Postmates credit or Starbucks gift cards, earned for biking to work instead of driving. The more sustainable the mode of transportation, the bigger the reward–so those who take Uber earn 2x miles, while those who ride a bike receive 5x miles."
Indian electric scooter startup Mobycy aims to raise up to $30 million with a continued focus on electric scooters with seats: "We are staying away from cycles right now. They are not the best way to solve the Indian last-mile problem. When it comes to commuting, the preference for cycles is a niche segment, not a mass segment." | BusinessLine
Micromobility
Bird releases a new white-paper on scooter safety. Former Lime Policy Director, Emily Warren Castor, highlight several flaws in the paper on twitter: "I DO agree with the report that city infrastructure improvements are critical to scooter safety. But right now I believe the designs of most scooters are less resilient than bikes to suboptimal infrastructure (pavement quality, etc). Companies can help fix that." | Bird
Former NYC Transportation Alternatives Director and longtime bike advocate, Paul Steely White outlines why he joined Bird. "Nearly overnight, e-scooters have become more popular than bikes in many cities. After millions of Bird rides, it's clear that a real revolution in urban transportation is happening." | Paul Steely White
Micromobility company Urban Sharing has boosted Oslo bikeshare utilization from 2.8 to 7.8 trips per vehicle per day in 3 years. "What we have done is help move bicycling from a leisure activity, to one people in Oslo feel comfortable incorporating into their daily lives." | Clean Technica
Lime completes 3 million trips in Los Angeles in just over a year. | Lime
A comparison of scooter operators in Europe. | Sifted
Transit app shares data around scooter operator usage in DC. "The summer started with 4.8% of those Transit users having a scooter app installed, while today almost 9% have one." | Transit app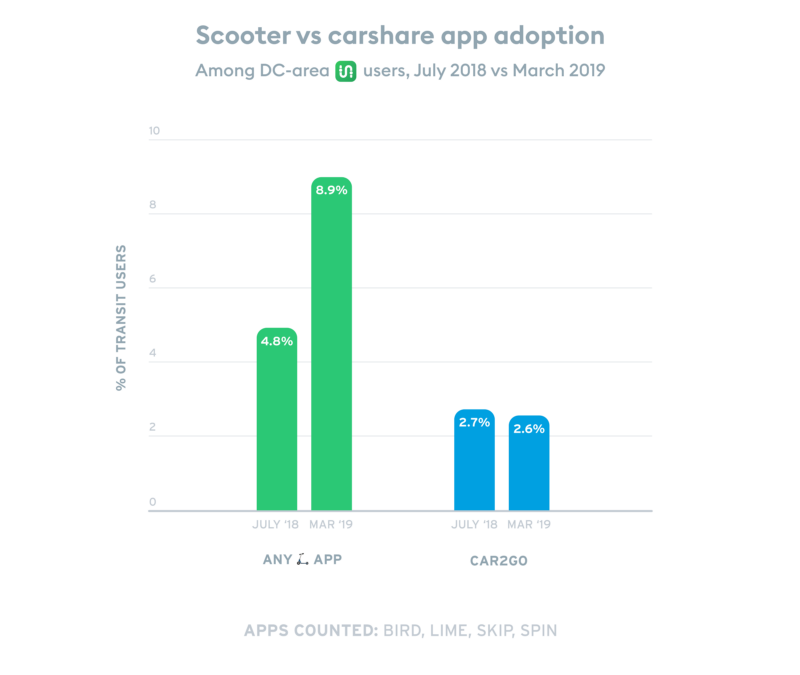 ---
If you enjoy reading "Movements," click here to tweet to tell others about it.
All views are our own.