Discover more from Movements
A monthly newsletter covering emerging trends in mobility services and transportation.
Over 4,000 subscribers
Movements | December 11th, 2018
Issue #27 — Brought to you by Michal Naka and Adam Feldman. Please forward this weekly mailer to friends and colleagues and encourage them to sign up!
Announcements
We're trying something new! There are tons of folks who work in the industry on this newsletter. Are you looking to fill a role on your team? Email us directly with a link to the role and we'll highlight a few of them next week. 
New Products and Features
Bird has quietly started testing an integrated cable lock on a fleet of Segway scooters in Bakersfield, California last week. Riders receive a code in the app to unlock the cable. Bird joins Skip and Scoot as the latest company to test integrated vehicle locks on city streets. | YouTube
Toronto based Joyride launches scooter share on its white-label micromobility platform. | Joyride
Uber is testing Specials in its Uber Eats app, which encourage restaurants to offer bundles at a discount. | TechCrunch
Micromobility
Spanish scooter startup Eskay, has released photos of its new custom scooter with an integrated helmet attachment. Stay tuned — this model is rumored to launch in January. The vehicle also features 10" wheels and two disc brakes. We hope it includes disinfection wipes as well. | Eskay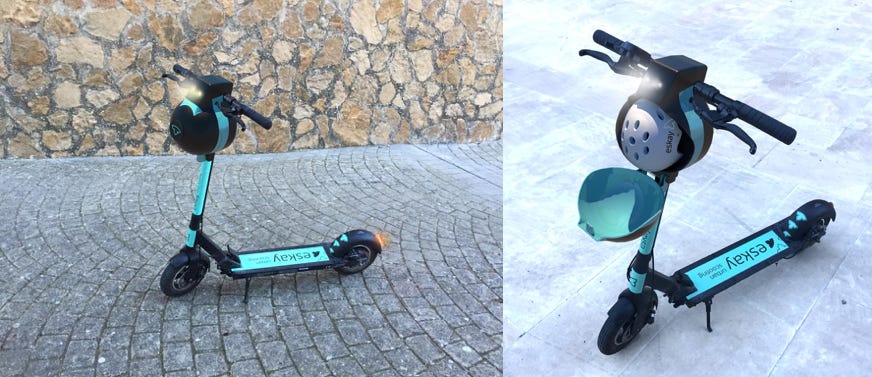 Eskay Scooters
Scooter Safety: The Center for Disease Control announced that it would be conducting its first study of the health risks of dockless scooters by looking at incidents and injuries that occurred in Austin, Texas. | Texas Monthly
Inc provides an in-depth overview of the origins of Bird. "He told me the idea of adult scooters and explained how riders would just leave them on the sidewalk, and I was incredulous. I thought he was crazy," says Sacks. | Inc
Can't decide between a cargo or regular eBike? A German designer develops an eBike that can transform between both. | New Atlas
Lime says it continues to work on sidewalk detection, dynamic speed caps, and exploring a 'tool to lock out drunk riders'. | Business Insider
Scooter startup Qwikly launched in Abu Dhabi. | Zawya
The Power-Intelligence-Network framework for Micromobility. | Oliver Bruce & Horace Dediu
Lime "has pulled in around $20 million a month in revenue recently." | The Information
Auto OEMs
VW claims that its next generation of internal combustion engines will be its last as it plans a transition to electric vehicles over the next decade. | Bloomberg
TNCs
Lyft will cover your transit fare during the Seattle viaduct closure. | Lyft
A new ridehailing app launched in New York City last week, allowing riders and drives to "negotiate fares". "Users enter their destination on the inDriver app, and are shown a suggested fare based on what competing services would charge for the same ride. They can accept the app's suggestion or make an offer that's up to 30% lower. Their offer goes out to drivers in the vicinity, who can accept the figure or respond with a counteroffer that's higher by 10%, 20% or 30%." | Crains
Uber launches a bus service in Cairo to compete with public transit services. They're following Careem and Swvl who also operate similar services in that market. Related: Uber is expanding its team in Seattle to work on high capacity vehicle service. | Quartz
Lyft launched a new Ad campaign in New York City as it prepares for the L Train shutdown. | AdAge
Investments
Valuations cool for scooter startups as Bird and Lime continue to fundraise. | WSJ
Skip raised a $100m debt round as it continues to ramp up vehicle engineering and new deployments. | Bloomberg
One of the original (founded before Bird!) electric scooter share companies, Neuron Mobility, raised a $3.7m seed round. The Singapore based company charges users a $5 fee when they leave their ride in the wrong place. | TechCrunch
Cities & Policy
How Santa Monica, the birthplace of dockless electric scooters, is shaping the multibillion-dollar industry. "…if the first scooter didn't go out in Santa Monica, the industry maybe would have died last year." | Curbed

Welcome to Santa Monica, CA
Madrid ordered Lime, Voi, and Wind to halt scooter operations after a recent change in mobility laws. Details are a little fuzzy with what is required from operators, but apparently there's a cap of 10,000 vehicles for the city. Madrid has now received 18 scooter operator permit requests!| TechCrunch
Denver is working on a new bill to classify scooters as "Electric Mobility Scooters" enabling them to be ridden on bikelanes and streets under 30 mph. Currently, scooters are classified as "Toy Vehicles" under Colorado state law and required to be ridden on sidewalks. | 9news
Luxembourg will start offering free mass transit to everyone in an effort to reduce reliance on cars and cut down on traffic. | NY Times
CEO of LA Metro calls for congestion pricing and free mass transit, | Curbed
Over a dozen cities have signed on to an open letter endorsing open data standards, including MDS, for dockless mobility services. | Civic Analytics Network
Disclaimer: all views are our own