Discover more from Movements
A monthly newsletter covering emerging trends in mobility services and transportation.
Over 4,000 subscribers
Movements | December 18th, 2018
Movements | December 18th, 2018
Issue #28 — Brought to you by Michal Naka and Adam Feldman. Please forward this weekly mailer to friends and colleagues and encourage them to sign up!
Micromobility
Ofo is back from the dead in the USA, at least temporarily, with the quiet launch of a scooter share service in Tempe, AZ. Overall things don't seem to be going well for the Chinese bikeshare company as rumors of bankruptcy continue to swirl. | Twitter
New research from the China Institute of Information and Communications Technology shows that the country's 23m dockless bikeshare vehicles have reduced inner-city car trips by 7.8%. | CBC
A former Ofo executive has raised €20 to launch Dott, an electric-scooter service in Europe. | TechCrunch
Scooters take off in Christchurch, New Zealand, as 1 in 7 residents have tried the Lime service since launch in October. | Stuff
Bird shares some stats about their Paris operations. Key stat: 5% of Paris's population has tried the service so far. | Bird
Winter is coming: Lime pauses electric scooter operations in St. Louis. | KMOV
Mobike is considering spinning off its European operations, valued at $100m. | FT
Chargewheel, a 'Charging-as-a-Service" company, launched its energy delivery van for micromobility. The vans are equipped with 550kwh of energy storage which can charge up to 800 scooters or eBikes. | Chargewheel
After being plagued with vandalism and theft trouble in San Francisco, Scoot launches its app-based integrated scooter lock. "People use these scooters more than any other type of Scoot vehicle." | TechCrunch
Don't drink and scoot: Indianapolis EMS says 30% of scooter accidents happen while drunk. | WIBC
New Products and Features
Acton is preparing to launch its first fleet ready "M Scooter Pro" electric kick scooter. The vehicle includes front fork suspension, 30-mile range, turn signals and an integrated smart lock. We're going to need to have some "scooter shows" pretty soon! | Acton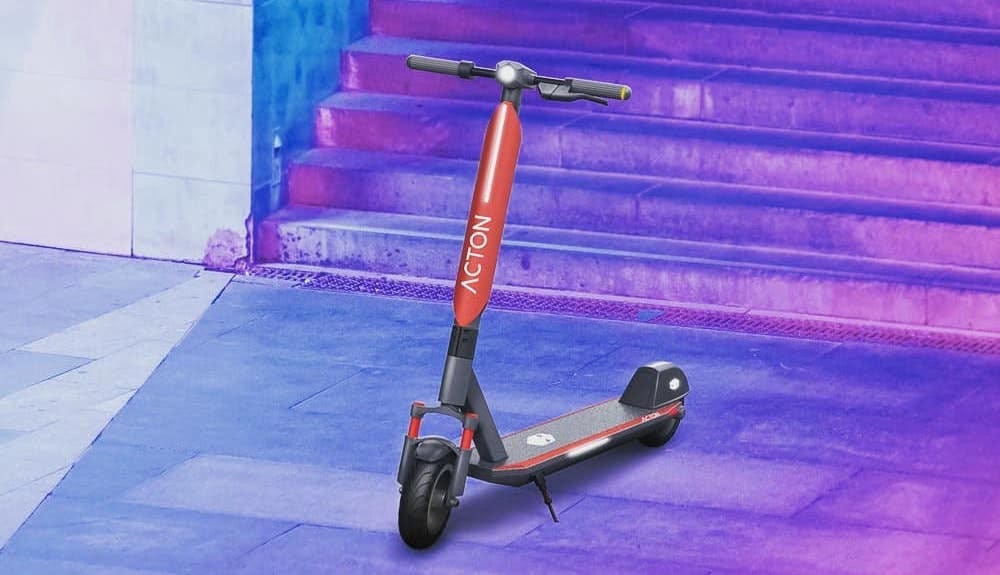 Acton 'M Scooter Pro'
A look at what's coming next for OpenTripPlanner:
Expanded support for shared-use mobility services such as bikes, scooters, carshare, and ridehail as well as features to support them as first- and last-mile options for transit journeys

Additional support for GBFS and GTFS-flex standards

Much faster public transit routing
Uber Lite launches Pool in India. | Uber
Auto OEMs
Remember those vehicle subscription services that auto OEMs were experimenting with? Well, Volvo's appears to have enough traction that dealers in California have asked the company to stop. | Cnet
TNCs
UT Austin Energy Institute built an economic model that found "mobility service are cheaper for ~20% of US drivers compared to owning a car". Of course, the real answer is more complicated. | Todd Davidson
Lyft launched a 'Grocery Access Program' in DC. The program offers families living in DC Wards 7 and 8, which only have three grocery stores available, discounted shared Lyft rides. | Lyft
Uber Eats partners with Starbucks to add a delivery offering in about a quarter of its US stores. | CNBC
Lyft launches features that highlight public transit, scooters, and bikes alongside its ridehail offerings in Washington, DC, Los Angeles, and Santa Monica. | TechCrunch
Ridehailing firm Careem launches a food delivery business. We're guessing scooters are up next. :) | Reuters
Cities & Policy
Excellent interview with Oakland DOT head Ryan Russo about scooter regulations and the future of cities. "We have been defending the status quo of having private property in the public right of way." | Arstechnica
Shenzhen's 16,000 strong bus fleet has gone fully electric. | The Guardian
London launches a 5 year plan to increase cycling by tripling the size of its cycleway network. The mayor's goal is to increase the share of trips by walking, cycling, and transit from 63% today to 80% in 2041. | Forbes
Why curb regulations get complicated and what cities can do about it, | Coord
Unsurprisingly, the variably priced express lanes on I-66 in Virginia have shifted traveler behavior away from peak travel times and towards mass transit services. | Washington Post
An open invitation from SDOT to collaborate on their open data infrastructure plan. | Benjamin de la Peña
An early look into the effectiveness of NYC's car share services. | Streetsblog
Open Roles
We're trying out a new section where we highlight exciting open roles within the Movements network. If you want us to feature a role, email us!
Come work with Michal — Ride Report is hiring a Senior Product Designer. 
Uber — Data Scientist — Research & Economics
UMI Systems — Mobile Development
Walker Consultants — Parking Technology Consultant
Skip — GM roles for SF, Atlanta, Chicago, Dallas, Miami, Philly, Phoenix, San Diego, and lots more!
CarServ — Senior Full Stack Developer
Lyft — the Bikes and Scooters team in NYC is hiring for a Senior Manager, Operations Lead, and Data Analyst.
Disclaimer: all views are our own