Discover more from Movements
A monthly newsletter covering emerging trends in mobility services and transportation.
Over 4,000 subscribers
Movements | January 9th, 2019
Movements | January 9th, 2019
Issue #29  — Brought to you by Michal Naka and Adam Feldman. Please forward this weekly mailer to friends and colleagues and encourage them to sign up!
Happy 2019 movements subscribers! We hope you had a stellar holiday break. We sure did. Adam was hiking in Argentina and Michal was riding scooters in San Diego. On to the issue!
Announcements 
Micromobility California conference is just around the corner on January 31st. Last chance to get tickets using the movements subscriber discount code: 'moveme'. | Register Here
Micromobility
Great thread analyzing usage of Bird scooters in Tel Aviv. | Ido Cohen
Segway-Ninebot teased its next generation shared scooter 'Model Max' with a focus on improved operational lifespan. It really looks like a beefed up version of their consumer Xiaomi M365 model with the motor moving to the rear wheel. Look for more info at CES this week. | Venture Beat
The most car friendly cities are also the most scooter friendly: Atlanta, GA is № 2 city for total Bird scooter users behind only San Diego. | AJC
What is the biggest threat to scooter sharing in 2019? | Yev Podgayetsky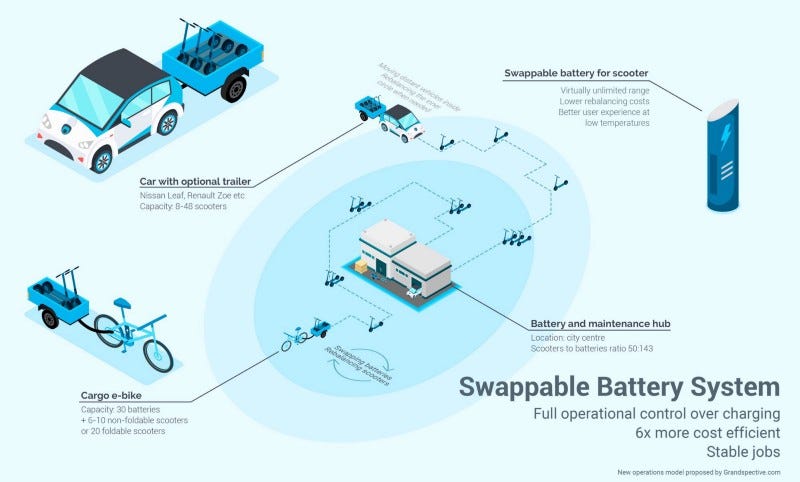 Will we see field swappable battery systems in 2019?
More standup scooters are coming in 2019. Chinese firm Onemile announced a station based scooter rental service for hotels, cities and tourist attractions. | PR Newswire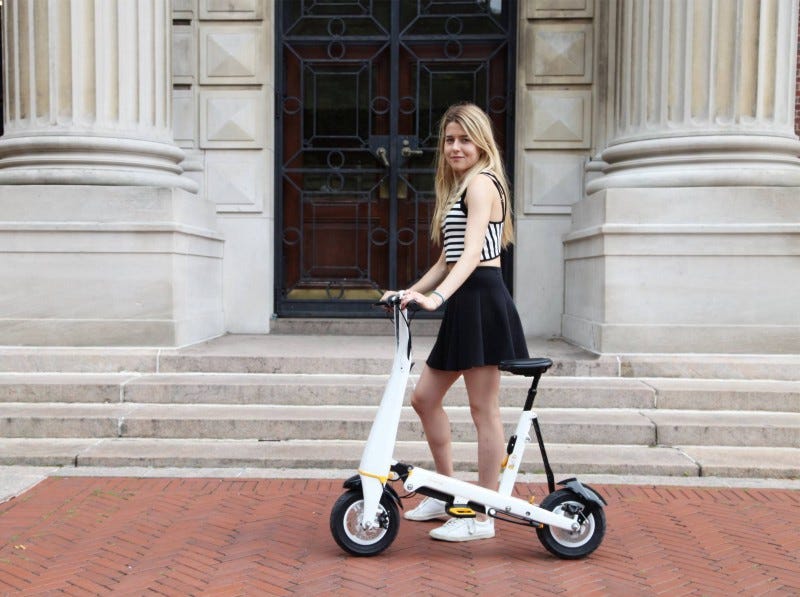 Onemile 'Halo city' — Sit down electric scooter
A shared cargo eBike service launched a pilot in Oslo. | Oslo Cargo Bike
Uber is serious about micromobility: "Uber said last month that in 2019 it would spend more than $1 billion on buying and renting electric devices to customers — namely, scooters and bikes." | The Information
TNCs
The share of US adults who say they have used a ride-hailing service grew to 36% in 2018 vs 15% in 2015. Lots of room for growth!| Pew Research

Didi launches a range of financial services features in an effort to diversify their business. These include credit, lending, wealth management, and crowdfunding offerings aimed at gig workers. | Reuters
VW is writing off its investment in ridehailing firm Gett. "According to "Der Spiegel," competing with Uber and other companies "required billions more in investment," which Volkswagen refused." | Globes
The global ridesharing market is estimated to grow from $61.3 billion in 2019 to $218 billion by 2025. | Intelligent Transport
Product launches & updates
Blubel launches a neat navigation device for scooters and bikes. | Blubel
Cruise partners with DoorDash to test autonomous food delivery in 2019. | The Verge
Old Navy and Lyft partner to provide free rides to shoppers | Marketwatch
China ramps up global coverage of its GPS equivalent: Beidou. Related, here's a recent overview of all of the national satellite-based positioning systems and how a future that's less reliant on GPS might shake out. | SCMP
A great overview of the state of public transit data. | Transit Center
VW and Mercedes partnered to launch a premium ridehailing service in Shanghai, China. You can hail a Mercedes E200L via the VW app or WeChat account. | TechNode
Cities & Policy
Scoot's founder believes that New Delhi will leapfrog NYC in mobility. | Michael Keating
A great thread analyzing the time and dollar cost tradeoffs of driving to work vs. taking public transportation in the Bay Area. tldr — because of how our government has chosen to subsidize and price different options, it's cheaper and faster to drive between Palo Alto and the Financial District. If we want behavior change, we need to change the way these numbers shake out: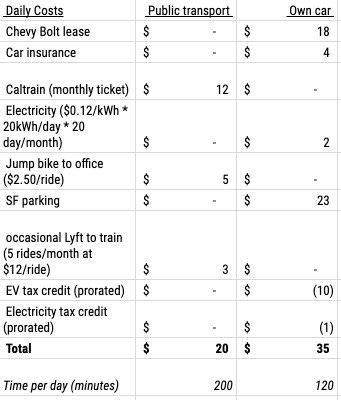 An old one, but we just came across it: Tokyo doesn't subsidize its transport system! And it's one of the best in the world! Why? Well, private vehicle usage and ownership is not excessively subsidized. That, and I suspect that privatization of the railroads aligns incentives to create better service. | Brendon Harre
Norway has heavily subsidized the adoption of EVs… and it's largely been effective at creating the highest EV per capita ownership rates in the world. Now that they're dialing back incentives, what will happen? | CityLab
Is riding in bikelanes safer vs non-bike lanes? "Although people are increasingly using bicycle lanes for safety, this study shows that they are not definitively safer." | Ovid
Open Roles
Have a role you'd like us to feature? Email us!
Disclaimer: all views are our own.