Discover more from Movements
A monthly newsletter covering emerging trends in mobility services and transportation.
Over 4,000 subscribers
Movements | July 30th, 2018
Movements
Issue #9! brought to you by Michal Naka and Adam Feldman. If you'd like this newsletter delivered to your inbox every Monday , you can subscribe here. 
We would like to give a shoutout to our friend and mobility product designer Jonathan Kurten for the new Movements logo!
Here's what happened last week…
Micromobility
Ninebot-Segway CEO thinks they can stay ahead of the competition, with their mass production capability and a team of over 200 engineers and designers working on next-generation scooter models: 'I don't think anyone can compete with us.' We will see how well this comment ages| Reuters TV
Dockless scooters return to Denver as pilot program starts with 5 companies including Bird, Lime, Lyft, Spin and Razor. In contrast to other cities, scooters in Denver are prohibited to ride on the street or bike lanes. Interesting to note that Bird and Lime previously entered Denver without permits and were not penalized. Related: Jump, Lyft, and Zagster receive dockless bike permits | Denverite
Singapore startup Scootbee is working on an autonomous 3-wheel scooter service. This is just the beginining of autonomous micromobility | Tech In Asia
DJ Khaled on a Lyft scooter? | Wired
Former Ofo GM, Paul Vidal heads up scooter share operations at Razor | LinkedIn
Lime hires Li Fan away from Pinterest to run their engineering team | CNBC
Y Combinator backed scooter startup Grin launches in Mexico City | Axios
Dockless scooter company GOAT pivots their business model, where you can buy up to 500 scooters and then rent them out to riders for a fee through the Goat platform. Related: Pony Bikes launches their 'Adopt a Pony' beta program. We're excited to see more novel approaches to financing these vehicles in the coming years | GOAT
Mobike and Ofo are pulling out of DC's dockless bikeshare pilot, citing unsustainable costs that they attribute to the cap of 400 | WAMU
There have been a few, neat analyses on the cost and revenue per mile of electric scooters. Bird charges $1.63 per mile but it only costs them $0.32 | Sam Korus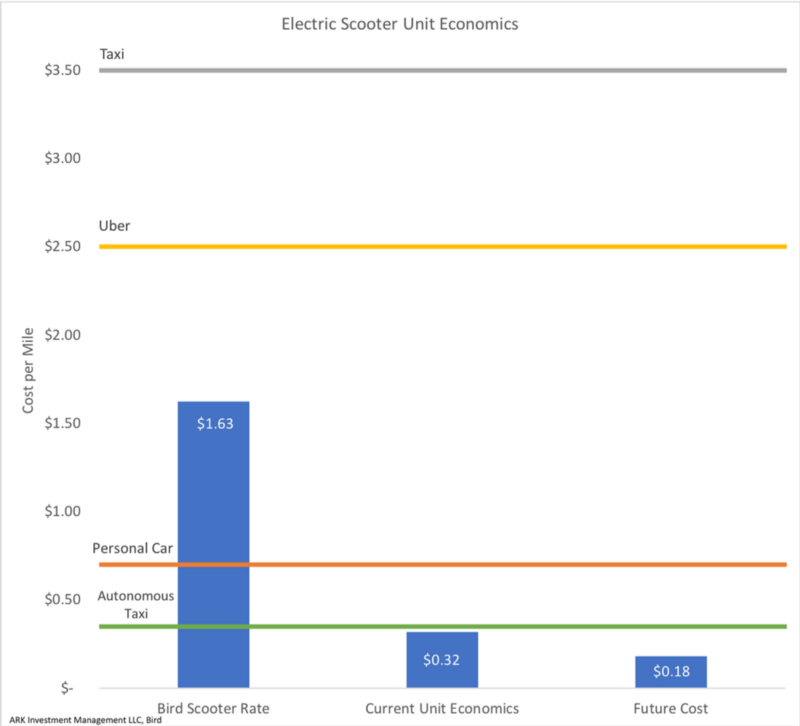 Cost per mile via Sam Korus of ARK Investment Management
Product Updates & Features
Lime launched a new in app feature called "Parked or Not". Before the end of each trip, each rider snaps a photo of how the scooter is parked. Lime is tapping it's community of riders to help label these parking images in order to train computer vision models to provide real-time feedback on scooter parking in the future | Lime
Sixt launched a weekend car rental service in Germany. Starting at €199 a month, users get access to a car every weekend for up to 72 hours. The weekend use case is huge missing piece for Mobility-as-a-Service (link is in German) | Sixt Weekend
Revel Transport is launching an electric moped sharing service in Brooklyn & Queens. Similar to Scoot, Coup and Muving. Price starts at $4.00 dollars for the first 20 minutes | Wall Street Journal
SageGraph introduces Places, it's own set of POI data | SafeGraph
Voyage talks through their partnership with Intact Financial to create a new, on-demand insurance offering that continuously reprices premiums based on risk assessments derived from real-time sensor data | Voyage
GM updates Maven to allow owners of GM vehicles to rent them out on the network to other subscribers. It seems like a great way to increase the amount of supply on their network while improving the net cost per vehicle mile of owning a GM car. | TechCrunch
Honda is piloting field swappable batteries with vending machines for electric mopeds | Michal Naka
Mapbox launches a Bring Your Own Route feature to their navigation SDK | Mapbox
TNCs
Uber completed 10 billion trips in 8 years. 5 billion were completed in the last year. Related: Lime hit 6 million trips in 12 months (July '17-June '18), while Uber hit 6 million trips in 33 months (June '10 — Feb '13) | Uber
How Grab's CEO steered it from a garage in Malaysia to Southeast Asia's most valuable tech unicorn | SCMP
Former Uber employees form a syndicate to invest in companies started by fellow alumni | Axios
Cities
NYC subway station naming rights may be sold to companies to help pay for improvements | Bloomberg
A great discussion has ensued over TNCs' contributions to congestion in major cities following Bruce Schaller's latest report. A lot of the debate focuses on whether ridehail fleets should be charged some sort of fee in order to discourage deadheading and encourage sharing or whether such a fee should be applied to all vehicles equally. Some great stats directly from the report:
TNCs added 5.7 billion miles of driving in the nation's nine largest metro areas at the same time that car ownership grew more rapidly than the population.

About 60 percent of TNC users in large, dense cities would have taken public transportation, walked, biked or not made the trip if TNCs had not been available for the trip, while 40 percent would have used their own car or a taxi.

Shared ride services such as UberPOOL, Uber Express POOL and Lyft Shared Rides, while touted as reducing traffic, in fact add mileage to city streets. Even with these shared services, TNCs put 2.6 new TNC vehicle miles on the road for each mile of personal driving removed, for an overall 160 percent increase in driving on city streets.