Discover more from Movements
A monthly newsletter covering emerging trends in mobility services and transportation.
Over 4,000 subscribers
Movements | July 3rd, 2019
Issue #54— Brought to you by Michal Naka and Adam Feldman. Join thousands of others who receive this analysis and curation of emerging mobility news in their inbox every week — subscribe now.
---
If you're interested in the things we cover in Movements, you should consider checking out the TechCrunch Mobility Sessions on July 10th. They've got an awesome lineup of speakers, including CTO of Waymo, CEO of Mobileye, Uber's Head of Aviation, and more! 
Micromobility
Are two-person shared electric scooters on the horizon? Scooter startup BOGO preps to launch them in California and Nevada. | Elektrek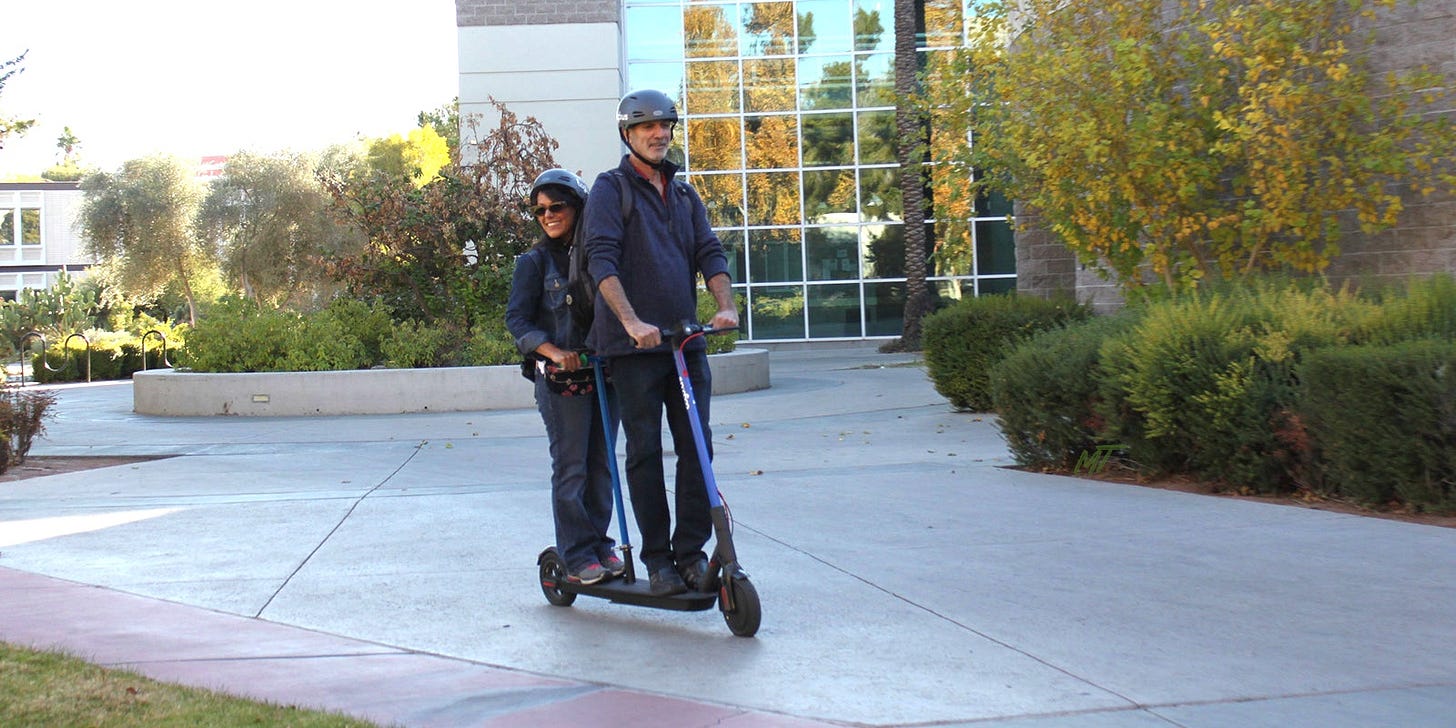 Chinese delivery app Meituan plans to introduce an 'Amazon Prime-like subscription service' that bundles free rides from their bikershare subsidiary Mobike. | Bloomberg
A lawyer's perspective on why electric scooter laws don't work. "But at a minimum, the micromobility revolution has forced cities to reconsider how to plan for and prioritize different modes of travel. If that ends up being the electric scooter's legacy, it will have been worth the ride." | Citylab
Commercial property owners in Oslo are rolling out scooter parking spaces. | Andreas Falberg
German scooter startup Tier passed 3 million rides and has launched in 32 cities. The company claims it's profitable in core markets, which have 90% of their fleet. | Bloomberg
Latin American scooter giant Grow Mobility crossed the 10 million ride mark. "Grow counts five million users across its shared scooter, bike and e-moped services in Latin America." | TechCrunch
Who said scooters have to replace walking? | Shanghaiist 
Second Measure shared bike and scooter sales growth through spring 2019. | Second Measure
Ridehailing
Didi invests in, OnTime, a Tencent backed Chinese ridehailing startup, just a few weeks after the company announced it was opening up it's platform to other ridehailing providers. | SCMP
As summer rolls along, Lyft has stopped eating into Uber's market share as both companies stabilize in the US. "Riders who use both Uber and Lyft typically spend more on rideshare each year than riders who are loyal to a single service."  | Second Measure
Products Launches & Updates
Singapore scooter operator Beam begins to insure riders in case of accidents. "Riders in Singapore can be covered for a range of events like bone fractures, loss of teeth, and loss or damage to personal belongings."  | Vulcan Post
VW launches it's free-floating electric carshare service in Berlin with 1500 vehicles. | Techcrunch
Chariot founder, Ali Vahabzadeh, launches a new startup aimed at modernizing city curbs. The company is launching a 3-month pilot in collaboration with Washington, DC, UPS, and DoorDash in August. | GovTech
Bird is rolling out scooters across Canada via it's platform product. | Techcrunch
Google Maps introduces two new features, Live Traffic Delay and Crowdedness Predictions for public transit. Leveraging live traffic conditions along routes, Google will provide live delay information for buses where they don't have real time information from transit agencies.  | Google Blog
Spin is testing cable locks on its scooters in Florida. | Bike Share Museum
Lime is rolling out the ability to reserve scooters globally. | Lime
Uber Eats is testing a "Dine-In" experience where users can order food ahead of time and then eat it at the restaurant. | TechCrunch
Uber launches a debit card for drivers in Mexico that provides faster direct deposit for earnings and discounts on gas and auto parts. | El Financiero
Uber is now prominently featuring vehicles from both JUMP and Lime on the home screen when you open the app. | TechCrunch
New Deals & Investments
P2P carshare startup Getaround acquires Norwegian startup Nabobli. | Techcrunch
Cities & Policy
The 20 most bike friendly cities on the planet. | Wired
---
All views are our own.