Discover more from Movements
A monthly newsletter covering emerging trends in mobility services and transportation.
Over 4,000 subscribers
Movements | June 26th, 2019
Issue #53 — Brought to you by Michal Naka and Adam Feldman. Join thousands of others who receive this analysis and curation of emerging mobility news in their inbox every week — subscribe now.
---
Micromobility
Chinese ridehailing giant Didi has set up a '2-wheeler business group', combining it's bike rental and scooter teams together. | TechNode
German scooter startup Tier partners with EU car rental company Sixt. Users of the Sixt app will be able to book Tier scooters. | Fleet World
A test ride of General Motors' first eBike. | The Verge
Bike startup Hello TransTech, Alipay, and battery manufacturer CATL, have entered into a joint venture to set up a countrywide battery exchange and charging network for electric scooters and bikes in China. | TechNode
Ridehailing
Didi opens up their app to other ridehailing firms. | SCMP
WeChat parent company Tencent backs a new ridehailing business in Southern China. | TechNode 
Door Dash is now the US leader in food delivery after beating out GrubHub. | Quartz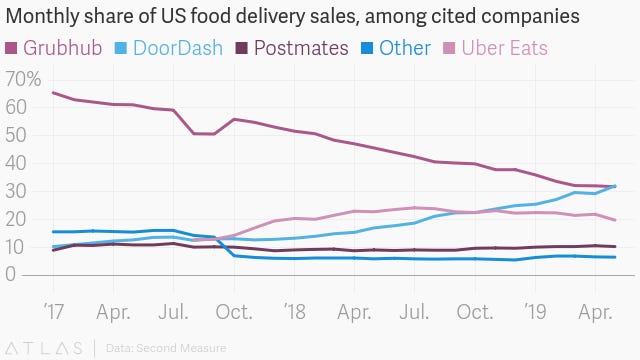 New Investments & Deals
Egypt based transportation startup Swvl raises $42 million. Similar to UberBus, the startup connects commuters to seats in private buses.  | menabytes
Grab invests in Splyt to help enable travelers to use local ridesharing services through their local apps. | Skift
Product Launches & Updates
The co-founder of Tile launched Unicorn Scooters, a monthly scooter subscription service with handsfree unlocking and integration into the Tile network. Pricing starts at $549 a year, with the option to bundle 'UnicornCare' service on top for $99.  | Unicorn
Nexar releases a novel approach to localization in cities that solves for some of the challenges with GPS in cities. | Nexar
Ride Report partnered with Bird and Lime to launch an auditing platform for micromobility| PR Newswire
Cities & Policy
Electric scooters are now officially legal in Florida, with a new bill that enables scooters to be ridden in bikelanes and allows for further regulation at the local level. Earlier versions of this bill would have blocked cities from regulating the number of scooters on the road.  | Florida Politics

A micro-glossary on Micromobility. | Annie Chang
The Open Mobility Foundation gets off the ground to support the development and adoption of open source standards like MDS. Members include Chicago, NYC, San Francisco, Santa Monica, Seattle, DC, Los Angeles, Bird, Spin, and others. | Wired
---
All views are our own.