Discover more from Movements
A monthly newsletter covering emerging trends in mobility services and transportation.
Over 4,000 subscribers
Movements | March 5th, 2019
Issue #37 — Brought to you by Michal Naka and Adam Feldman. Please forward this weekly mailer to friends and colleagues and encourage them to sign up!
Micromobility
Gotcha is adding electric trikes to its multimodal offering. "It can seat two people at a time, has a top speed of 25 mph, and a range of 40 miles per charge."| The Verge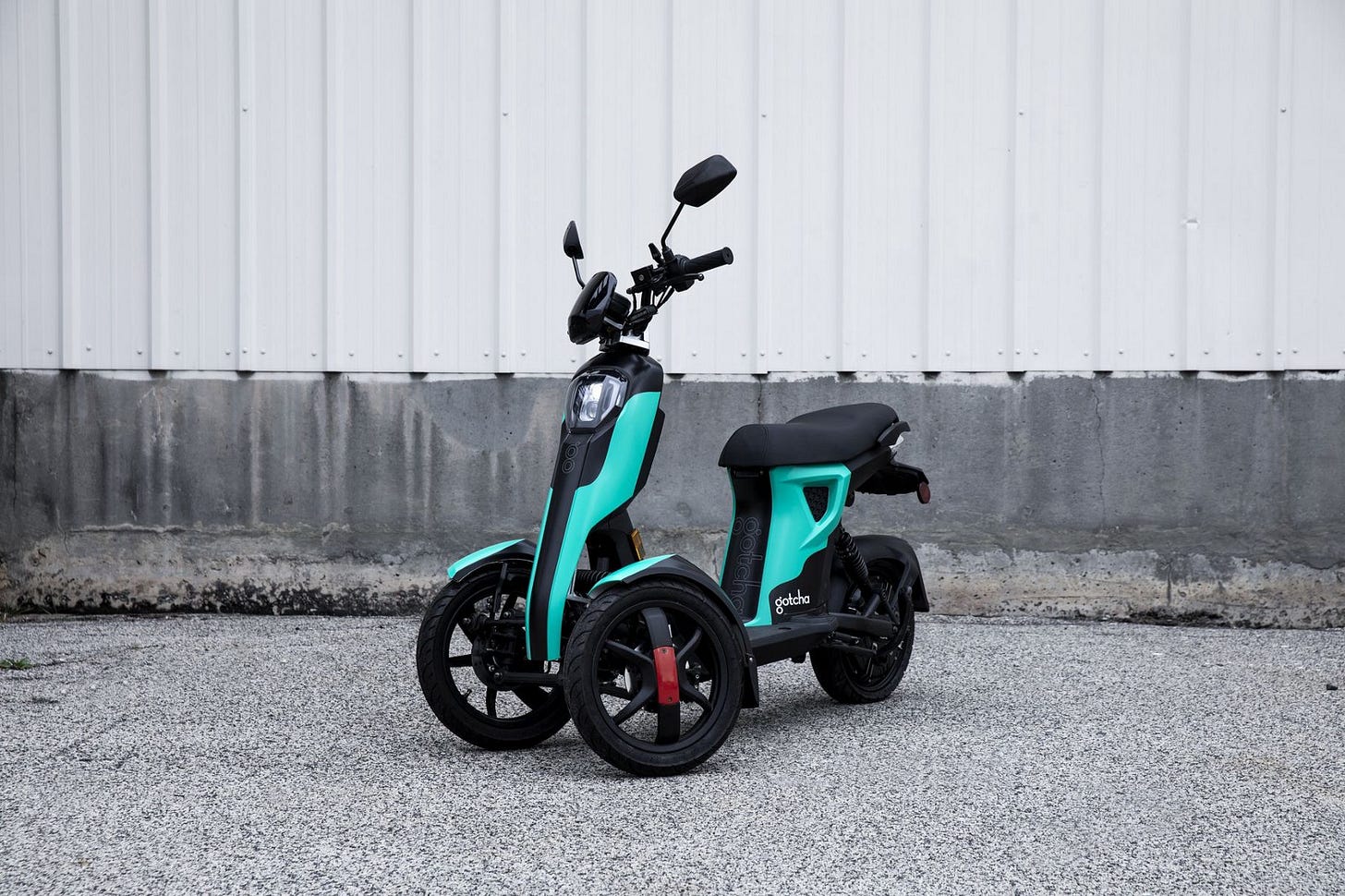 Scandinavian based scooter startup Voi has raised an extra $30 million, now with a total funding of $80 million. "Meanwhile, the company says its strongest markets so far are in the Nordics. Namely, Stockholm, Gothenburg, Malmö, Lund, Uppsala and Copenhagen, most of which it says will reach profitability in Q1." | Techcrunch
Who is liable in a crash involving an e-scooter? A bike lawyer explains. | Mobility Lab
A North Carolina bill would required bicycles to be registered with the division of motor vehicles. | Fox 46
NYC's CitiBike is growing its electric bike fleet from 200 to 4,000 eBikes this Spring. Related: Lyft releases CitiBike eBike data for the first time suggesting that they are significantly more popular and highly utilized then regular bikes. | Streetsblog
Here is a video interview with Bird investor and board member David Sacks. | Upfront Summit
'With every generation of scooters, the unit economics keep getting better."

2019 is about dialing in the unit economics, current scooters are too easy to steal and there's no part supply chain built out.
You can't make this up: distressed Chinese bikeshare company Ofo is testing an 'in-app discount store' where users can convert their deposits into 'virtual coins' to buy daily items like coffee, wine, and tissues. | TechNode
Ridehailing
Uber and Lyft look to give some drivers a cash bonus with the option to use it to buy IPO shares. | WSJ
After months of rumors, it appears that Uber is closer to acquiring middle east ridehailing firm Careem. | Bloomberg
Smaller restaurants grabble with the burden of delivery fees by creating separate delivery menus with higher margin items. | Skift
Uber rolls out 'Uber Rewards' across the USA. | Techcrunch
Carsharing
Volvo is gearing up to launch its new "M" mobility brand this spring in the US. "M will roll out hundreds of subscription-accessible cars in a to-be-announced American city." | Slate
A week after their joint venture announcement, BMW DriveNow vehicles are now available inside the Daimler/Mercedes Car2go app in Europe. A big win from a user experience perspective. | Fabian Heuwieser
Lime launched their 'LimePod' carshare service to all users in Seattle. It will also launch LimePods soon in an unannounced California city. | Geekwire
Investments & Deals
Ola spins out its electric mobility unit and raises $56 million. "Ola last year said it planned to bring 1 million electric vehicles to Indian roads in a few years." | Reuters
Remix raises a $15m series B. | Remix
Zum, the ridesharing service for kids, raises a $40m series C. | Techcrunch
Cities & Policy
LA considers taxing Uber & Lyft rides. | LA Times
"It may be that scooters fall out of favor in the future, but they are helping expose the gaps in infrastructure that our cities need to fix." | Tennessean
Dockless scooters and bikes can help to address transportation equity issues in NYC. | Curbed