Discover more from Movements
A monthly newsletter covering emerging trends in mobility services and transportation.
Over 4,000 subscribers
Movements | May 29th, 2019
Boaz launches seated scooters in Detroit, Spin partners with Swiftmile and CEO changes at Lime.
---
Issue #49 — Brought to you by Michal Naka and Adam Feldman. Join thousands of others who receive this analysis and curation of emerging mobility news in their inbox every week — subscribe now.
Micromobility
Executive shakeup at Lime: Co-founder Brad Bao replaces Toby Sun as CEO, while COO Joe Kraus becomes president. | Cory Weinberg
Electric cargo bikes are starting to replace delivery vans in London. "Not only do bikes avoid the new Ultra Low Emissions Zone charges, but a Transport for London trial found them twice as fast as vans." | MyLondon
The VeloMini electric cargo scooter can tow nearly 70 pounds. | Electrik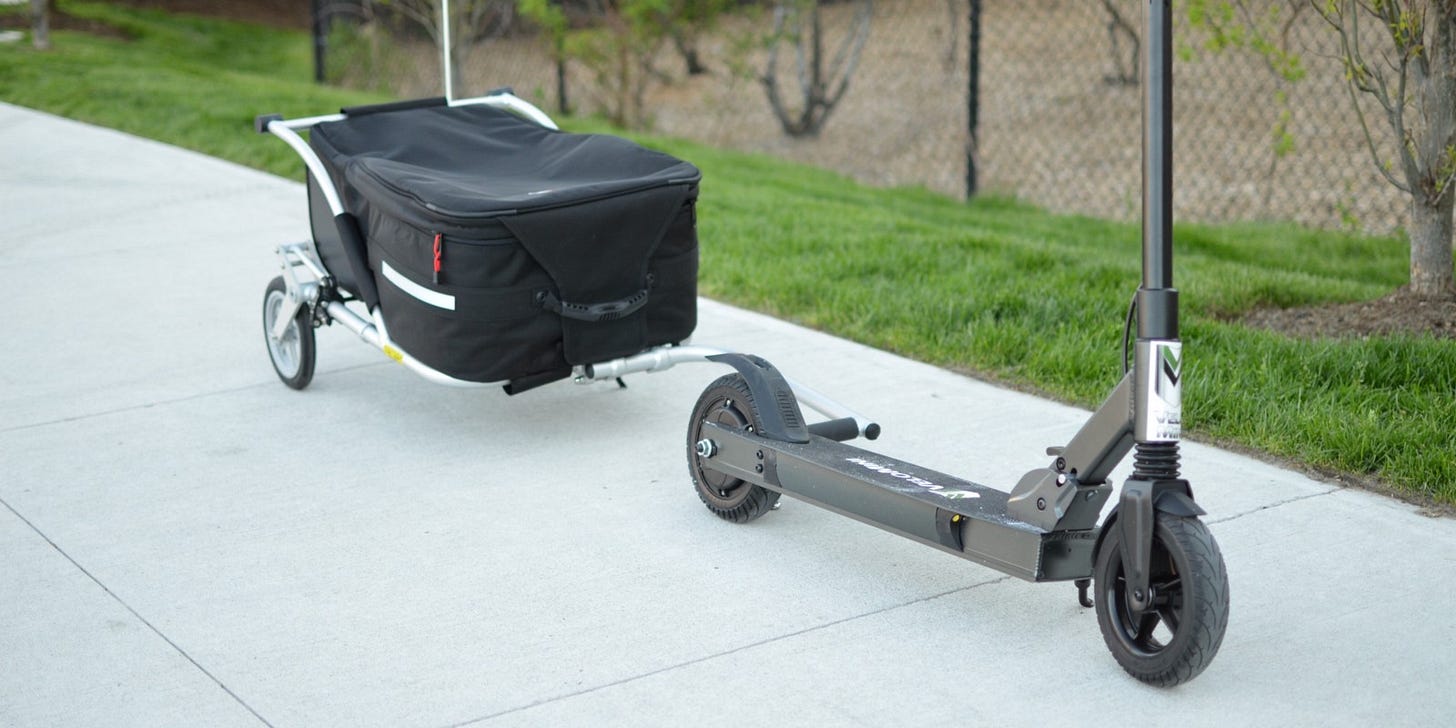 "Our estimate of the global market for shared e-scooter rides — potentially $40 billion to $50 billion by 2025." | BCG
Revel launches a rental service with 1,000 electric mopeds in Brooklyn and Queens. | NY Daily News
How does Oslo bikeshare achieve 8 trips per bike per day? A data scientist from Urban Sharing explains: "Standard rebalancing algorithms do not intuitively account for gender or wealth distribution. If a city wants to make sure each population is served equally, they must study and accommodate demographic usage patterns isolated from average usage patterns." | The Local
An awesome essay on scooters and public infrastructure:"Rather than see scooter and bike rentals as creating a new traffic problem, we should see them as forcing the question of a much older issue of car supremacy." | Real Life
Register for the 2019 Micromobility Conference Berlin with a 20% off movements subscriber discount. | Micromobility Berlin
Products Launches & Updates
Starting Friday, you'll be able to pay for some subways in NYC with Apple Pay or Google Pay. | TechCrunch
Boaz bikes is launching a shared service with a new form factor in Detroit. The seated scooter comes with turn signals, sideview mirrors and swappable batteries! | Crains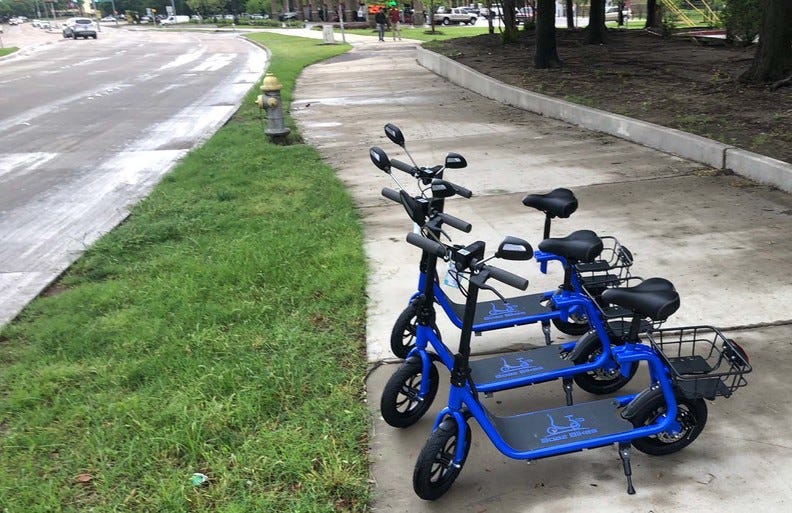 Transit launches multimodal routing across public transit + bike-/scooter-share services. | Transit
Spin is partnering with Switfmile to test dozens of solar powered docking stations on private property in DC and Ann Arbor, Michigan. The stations will only be compatible with Spin scooters. | Washington Post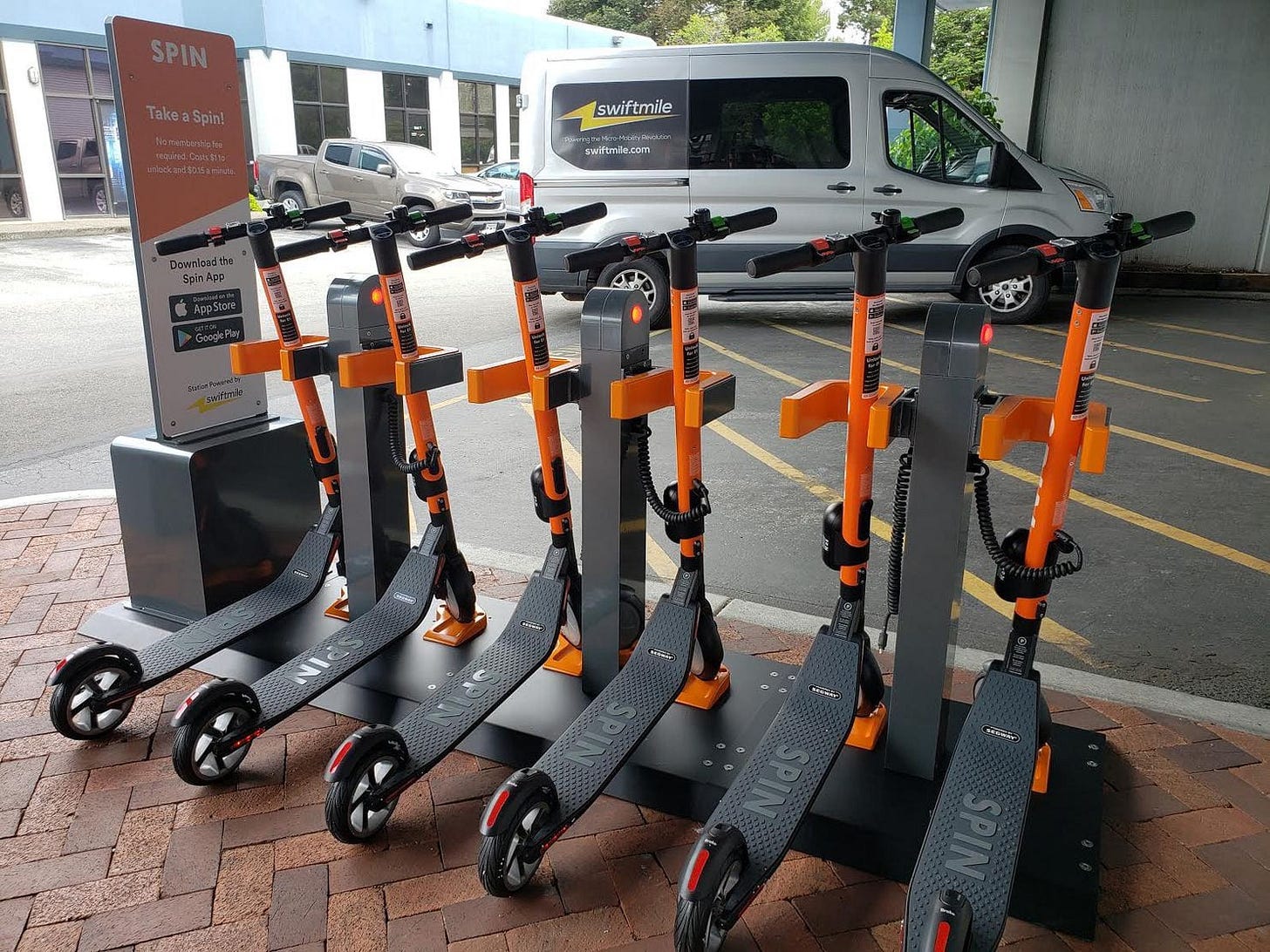 Voom announces its on-demand, usage based insurance for shared micromobility. "Instead of paying for blanket coverage, people should be able to insure individual rides on land, sea or sky. By leveraging real-time rider data, behavior and trends, we can adjust rates based on personal safety scores as well as external conditions (i.e. weather, traffic, location)."| Tomer Kashi
Mapbox launches a Traffic Data service powered by the 500m monthly active users of their platform. It updates every 5 minutes, predicts ETAs within a 10% margin of error, integrates with custom routing engines, and matches to HERE, TomTom, and OSM basemaps. | Mapbox
Moovel acquires Validated, a startup focused on providing discounted mobility services as part of customer loyalty programs. For example: "Insurance companies and automotive dealerships are using Ride Pass to send mobility credits to their clients as a flexible alternative to rental vehicles." | PR Newswire
Scoop, the popular carpool service, launches in Detroit in partnership with Bedrock, a major commercial and residential real estate developer. | Scoop 
Ridehailing
Careem gets into the micromobility game with the acquisition of a docked bikeshare company in Abu Dhabi. The ridehailing firm plans to expand the bike offering across the region. | The National
A dive into the world of 'cloud' kitchens that are starting to fuel Uber Eats and other food delivery apps: "'Most quick-service restaurant chains employ 30 to 50 people,' said Jim Collins, chief executive of Kitchen United. 'In our facility, we have designed the service stack so they only need two people per shift. It cuts their labour cost by 75–80 per cent.'"| Financial Times
Cities & Policy
SFMTA is dramatically expanding its bikeshare programs. Permits will allow 11,000 docked and dockless bikes. | SFMTA
Dear map people — an interesting essay on the potential for big mapping apps to change how people get around. | Tom MacWright
---
If you enjoy reading "Movements," click here to tweet to tell others about it.
All views are our own.