Discover more from Movements
A monthly newsletter covering emerging trends in mobility services and transportation.
Over 4,000 subscribers
Movements | November 27th, 2018
Issue #25 — Brought to you by Michal Naka and Adam Feldman. Please forward this weekly mailer to friends and colleagues and encourage them to sign up. 
Micromobility
A river of cash continues to flow to scooter startups in Europe: Berlin based startup Wind raised a $22 million "seed" round. Wind is the only European scooter company who is on the ground in the US with deployments in San Diego and Oakland. | TechCrunch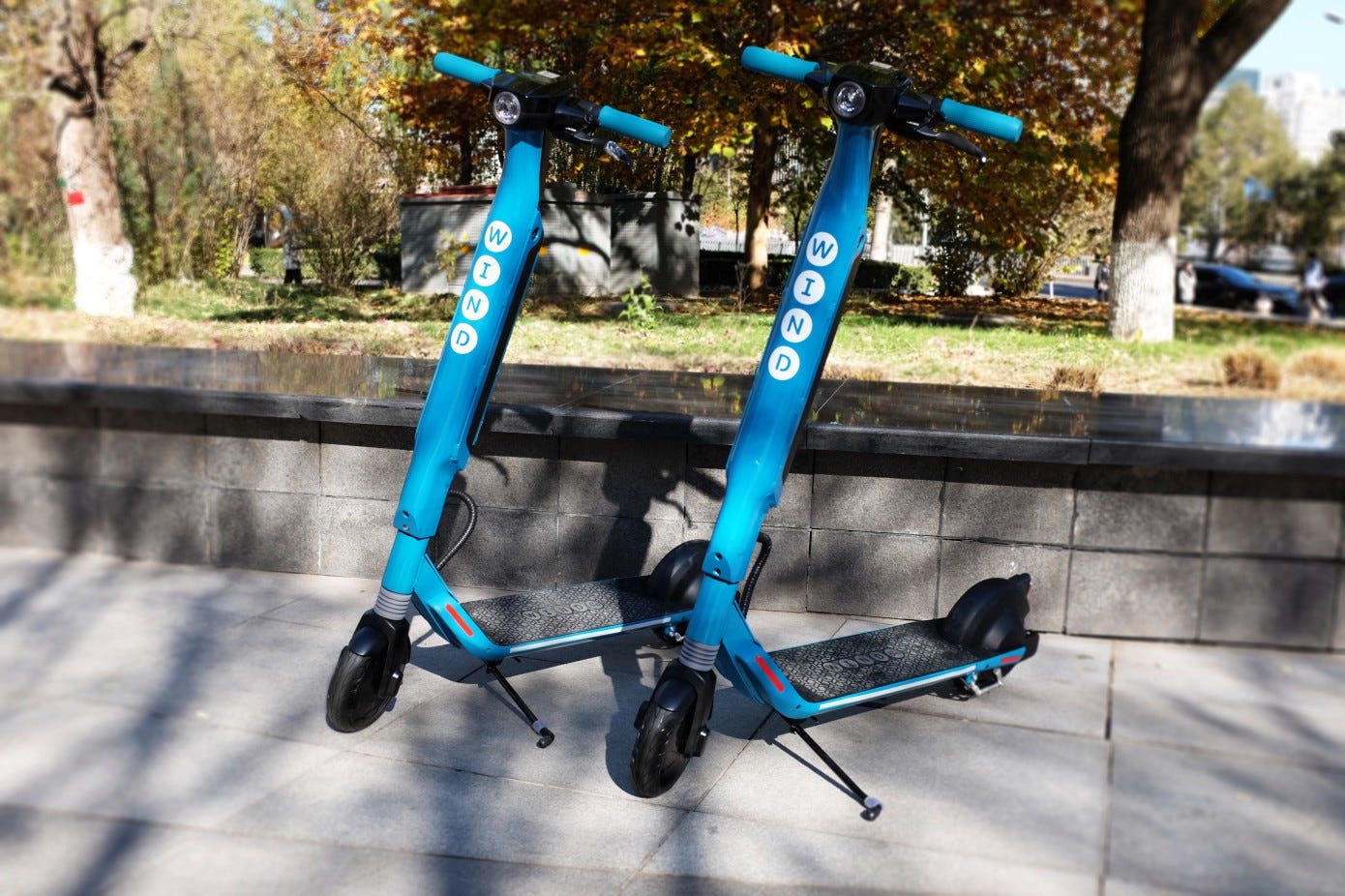 Wind Scooters — Custom designed hardware.
Ridehailing company alumni continue to hop over to micromobility startups: Uber ATG alum, Shalin Mantri, joins Skip Scooters as Head of Product. | Medium
Citi Bike eBikes are averaging 14 trips a day compared with 7 for the regular bikes. Reminder: Citi Bike is owned and operated by Motivate who was acquired by Lyft earlier this year. | NY Post
Multimodality for the win: "People who experienced the best health turned out to be those who lived in areas with the most number of transportation options, not just walking and biking." | Digital Trends
Scoot might be getting into car-share in the near future.| Asher
TNCs
Uber has started to roll out its Lime scooter integration in San Jose and Oakland. | Lime
Grab is testing its own scooter share service in Singapore with a standalone beta app called 'GrabWheels'. It's interesting to see ridehailing firms test different strategies when it comes to launching micromobilty: some are integrating into their core app (Taxify & Lyft), some are using standalone apps (Grab) and some are trying both (Uber/JUMP). | Business Times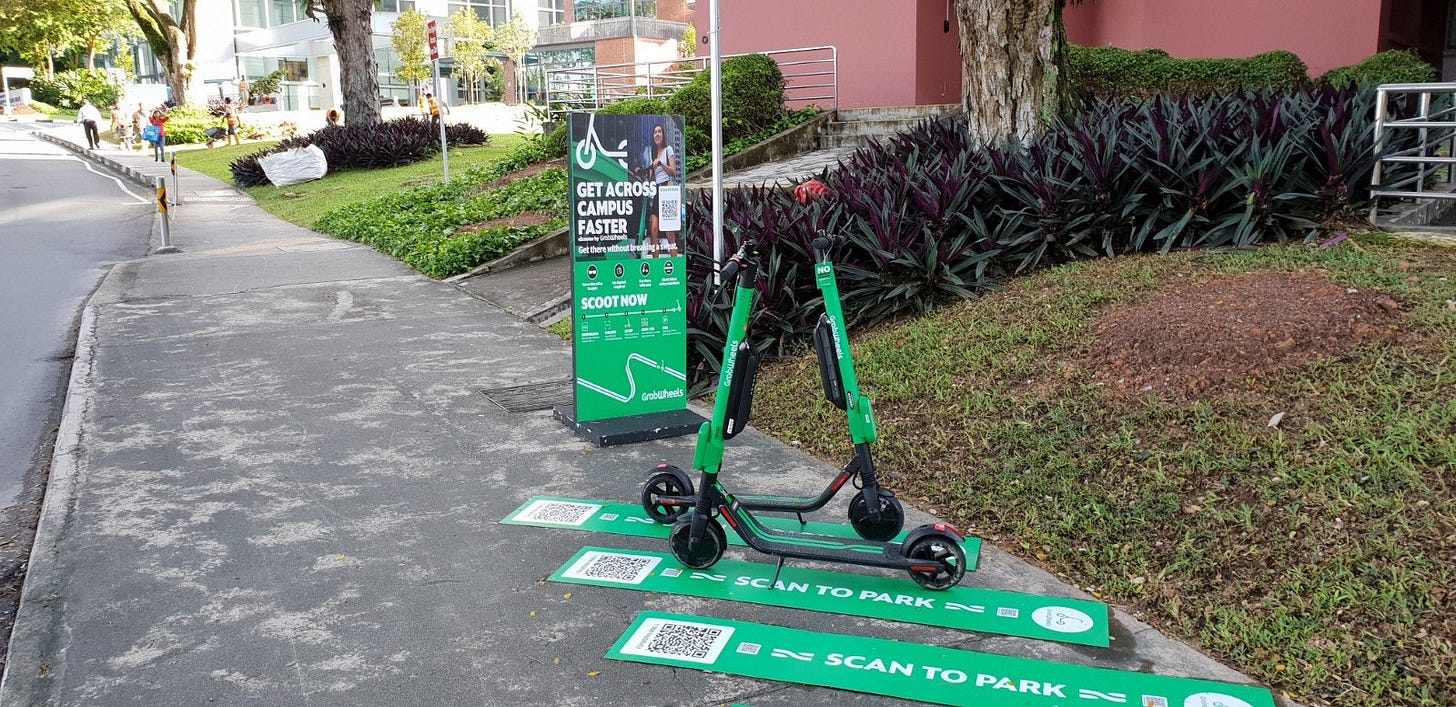 Grab Scooters (Photo: allinonlife.com)
Bike and scooter trips coming to Uber Rewards: "Right now points cannot be earned on bike rides or scooter rides. But we're planning to integrate them into the Uber Rewards program soon." | Uber Rewards Waitlist
Product Launches & Updates
The app known as Transit launches a true multi-modal transportation experience called Transit+. It combines planning, booking, and payments across TNCs like Uber, Lyft, Via, Ola, and Teo with public transportation to combine services and save users time and money. | Transit
The AWS of Scooters: You can now manage your own fleet of Bird scooters with a new service called 'Bird Platform'. "Because Bird has the largest app footprint and is often opened first by users looking for an available vehicle, the Open Map API will drive business for all participating operators. In turn, the additional supply from independent operators will reinforce Bird's position as first app." | Bird
FedEx expands fleet to add 1,000 Chanje electric vans. | Reuters
Apple Maps Collecting Pedestrian Data Starting in California, Likely to Improve Walking Directions | Macrumors
The BART app now has multimodal trip planning. | Eli Wirtschafter
Cars & such
Using a mix of credits, subsidies, licensing restrictions, and import controls, China is leading the world to an electric car future | Bloomberg
With all of the changes to travel behavior and fuel efficiency, oil demand for cars is already falling | Bloomberg
GM to kill Chevrolet Volt, Cruze, Impala as Americans ditch passenger cars. | Tennessean
Daimler gets into the 2-wheel electric game as MyTaxi launches their scooter service 'Hive' in Lisbon, Portugal. "Diepenhorst stressed that it would be "crucial to develop our own hardware" especially when moving into regions with more adverse weather conditions." | Electrive
Cities & Policy
Washington Post Editorial Board: There's a smarter way to regulate DC's scooters. "As long as fleet size is limited, firms will have the incentive to place their product primarily in high-density areas, leaving underserved parts of the city underserved still." | Washington Post
Also from the Washington area, a group of business leaders put forward a policy proposal for improving mobility in the area. It's probably the most comprehensive, thoroughly researched, and well presented overview of all of the ways to beat traffic that I've seen anywhere — give it a read! | Greater Washington Partnership
Quote of the week about the Lime dockless pilot: "The City of Spokane said they were surprised that the people using the bikes and scooters were using them as a way of transportation." | KXLY
California is not meeting its emissions goals under SB 375 and the car-centric transportation system is to blame. "With emissions from the transportation sector continuing to rise despite increases in fuel efficiency and decreases in the carbon content of fuel, California will not achieve the necessary greenhouse gas emissions reductions to meet mandates for 2030 and beyond without significant changes to how communities and transportation systems are planned, funded, and built. " | California's Sustainable Communities and Climate Protection Progress Report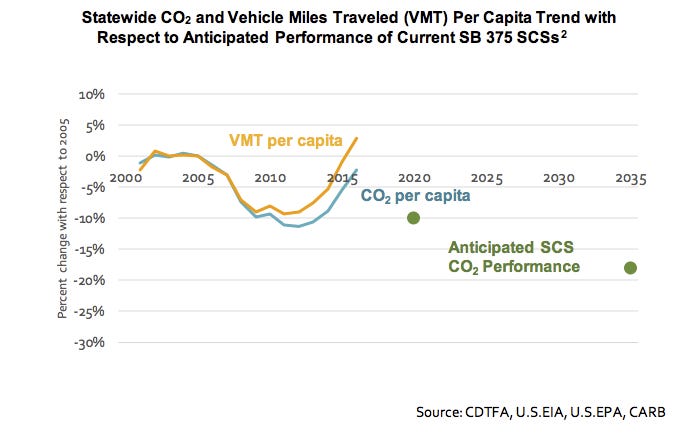 Disclaimer: all views are our own.