Discover more from Movements
A monthly newsletter covering emerging trends in mobility services and transportation.
Over 4,000 subscribers
Movements | October 1st, 2018
Issue #17! brought to you by Michal Naka and Adam Feldman. If you'd like this newsletter delivered to your inbox every Monday, you can subscribe here.
This is a very special issue. Why, you ask? Well for starters, we've got some amazing content this week that we're sure you'll love. Second, we just hit 1,000 subscribers! Thank you for all of your help and support… now go tell your friends so that we can get to 5,000. 
Now on to our regularly scheduled programming…
Product Launches and Updates
The biggest news this week is that Uber, Lyft, and Ford have lined up behind SharedStreets.io, a non-profit focused on creating a digital commons for the street in order to facilitate public-private data exchange. The companies plan to use the platform to share pick up and drop off behavior, curb utilization, and road speeds with cities. | Bloomberg
Masabi, a major provider of public transit ticketing software solutions, teams up with Swiftly to provide real-time and ticketing solutions to transit agencies. | Masabi
Coord launches their Shared Vehicles API, which enables software developers to search for availability and service areas across 85 docked and dockless bike, e-bike, and scooter systems. | Coord
Bird launched an "Ambassador Program" in cities without the service like Seattle and NYC. The company is offering free personal scooters to individuals to "help familiarize new people" with Bird and drive app downloads. | PDF
French carpooling service, Klaxit, partners with Uber to ensure its riders have a ride to/from work if their carpool partner cancels on them. This is a helpful step towards making it easier to adopt carpooling. | TechCrunch
Micromobility
Here's a question for you: if you put 700 JUMP bikes in a city of 500,000 people, how many of them will sign up over the course of 5 short months? Well, the answer is a mind-blowing 200,000 in the case of Scaramento. | The Sacramento Bee
Investors believe that scooter caps are only temporary and regulations will loosen up over time. We're inclined to agree, with the caveat that we'll likely see some new dynamic regulations such as the variable caps in Santa Monica, too. | Axios
Docks for the dockless? Uber launches charging stations for JUMP bikes. | VentureBeat
Razor looks to capitalize on the second coming of scooters in the USA: "Executives say they can get better-quality scooters designed for heavy use at a lower cost than rivals by leveraging its manufacturing relationships in China." | WSJ
Bird partnered with the national railway of France for dedicated scooter parking at stations. | Kenneth Schelker
There's been no shortage of international scooter companies launching lately. Sweden based startup Voi attracted 30,000 users 3 weeks after launching in Stockholm with only a couple hundred scooters. Related: Breakit reported that twelve different companies want to place e-bikes and scooters on Stockholm's streets.| Scandinavian Business
China presents a gigantic market for really tiny cars. | WSJ
Scooter supply chain constraints have been an emerging theme over the last few weeks. To tackle this challenge, Uber is opening a new China office focused on working closely with bike and scooter manufacturers. | Bloomberg
Lime multimodal stats: "For each time one of its standard pedal bikes gets used, an electric bike is used more than two times, and a scooter about five times." | Seattle Times
TNCs
Remember Lyft's "ditch your car" challenge that we mentioned a few weeks back? Well, apparently it was so successful in Chicago that they're now expanding it to 35 cities. As a reminder, the program entails ditching your car for a month (on the honor system) in exchange for $550 worth of Lyft, transit, car-share, and bike-share credits. | The Verge
Long distance rides marketplace BlaBlaCar is on the path to profitability with 50m projected rides in 2018. The French startup has 65 million registered users on the platform. | TechCrunch
Uber launched a centralized global security team to monitor and respond to events like hurricanes or terrorist attacks. | The Verge
Uber commits $10m to sustainable transportation in the form of a donation to shared streets, a campaign to support congestion pricing in NYC, and funding to support the Shared Mobility Principles.Why does this matter? Well, if Uber can make all of the other bits oft he non-car mobility system that much better, you will be more likely to ditch your vehicle and rely on its services as well as transit. | Curbed
Careem is growing quickly, expanding into Sudan, and launching a food delivery service. | Forbes
Ridehailing snack box startup Cargo raises $22 million. Surely it won't be longe before we can use Uber Cash to pay for snacks during a ride?| Axios
Interviews
Here's an excellent interview with the head of LADOT, Seleta Reynolds. As a reminder, we're huge fans of their vision for managing mobility via a set of APIs that they maintain. | Deloitte Insights
Here's an excellent interview with the head of Google Maps, Jen Fitzpatrick. | Fast Company
Cities
Jakarta is planning to introduce road pricing next year, proving once again that developing countries will often jump right to the most efficient infrastructure solutions.| The Straits Times
Mexico City is making it easier to remove parking spaces in a bid to reduce traffic congestion and the cost of housing. By changing their zoning policies, developers will no longer be required to build expensive parking ($10,000 per space) reducing costs to residents and freeing up space for, well, more housing supply, which further reduces costs. Some additional parking-related fees will help to fund increased transit investments. Donald Shoup couldn't have come up with something better himself.| Wired
Apparently, more Americans are now telecommuting than taking transit to work. | Governing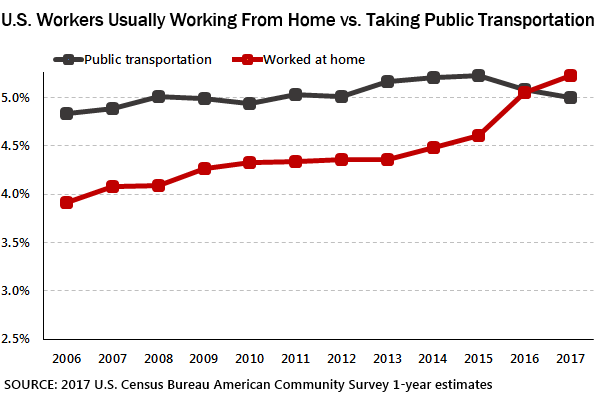 Boston's former CIO, Jascha Franklin-Hodge, makes the case that scooters and bikes provide the perfect opportunity for cities to rethink how they manage their mobility systems in a data driven way. | Remix
Chicago forms a Transportation and Mobility Task force to be headed by Ray LaHood, the ex-USDOT chief. According to Streetsblog, they'll have a few ambitious goals:
Establishing mobility goals for the city — such as reducing crashes, congestion, and pollution — and strategies for effective governance that serve as a framework for planning for, evaluating and managing current and future mobility options and identifying the appropriate city leadership to make sure future decisions align with these goals.

Proposing changes to technology, policy, and public way use management to support the city's mobility goals, including regulatory incentives, transit improvements, curbside use policies and data-sharing requirements/infrastructure.

Reviewing the areas of autonomous, connected and electric vehicles; enhancing CTA and other city transportation assets; promoting low and no carbon mobility choices; and finding sufficient and sustainable funding sources.
22 different Bay Area transit agencies use the Clipper card for a whopping 19,000 possible fares, passes, discounts, and transfer policies. This is fine if you're fortunate enough to not care much about what you spend on transit, but for those who need to think about the cost of a trip before taking it, this is a nightmare. Streamlining these fares presents difficult technical and organizational challenges, but they're well worth it!| Curbed