Discover more from Movements
A monthly newsletter covering emerging trends in mobility services and transportation.
Over 4,000 subscribers
Movements | October 23rd, 2018
New Lime Gen 3 Scooter, the Micromobility Reception, and more!
Welcome to episode 20 of movements brought to you by Michal Naka and Adam Feldman. If you'd like this newsletter delivered to your inbox every Monday, you can subscribe here.
Events
We want to extend a special invitation to all of our movements subscribers to the Micromobility reception presented by Honda Xcelerator on November 14th in San Francisco. It's going to be a fantastic evening of networking, a panel discussion and a keynote by Horace Dediu. Best of all, its free of charge. See you there! | Honda Micromobility Event
Product Launches & Updates
Lime introduced their new 'gen 3' scooter (its 6th iteration in 8 months). This purpose built waterproof scooter is over 40 pounds and includes dual suspension, 10'' wheels, a 30 mile range, and a 2.8" display. Lime claims its can last up to or over a year in shared use. Why the heavier weight? Beyond range capacity, we've heard that heavier scooters tend to be less prone to theft and vandalism. | Wired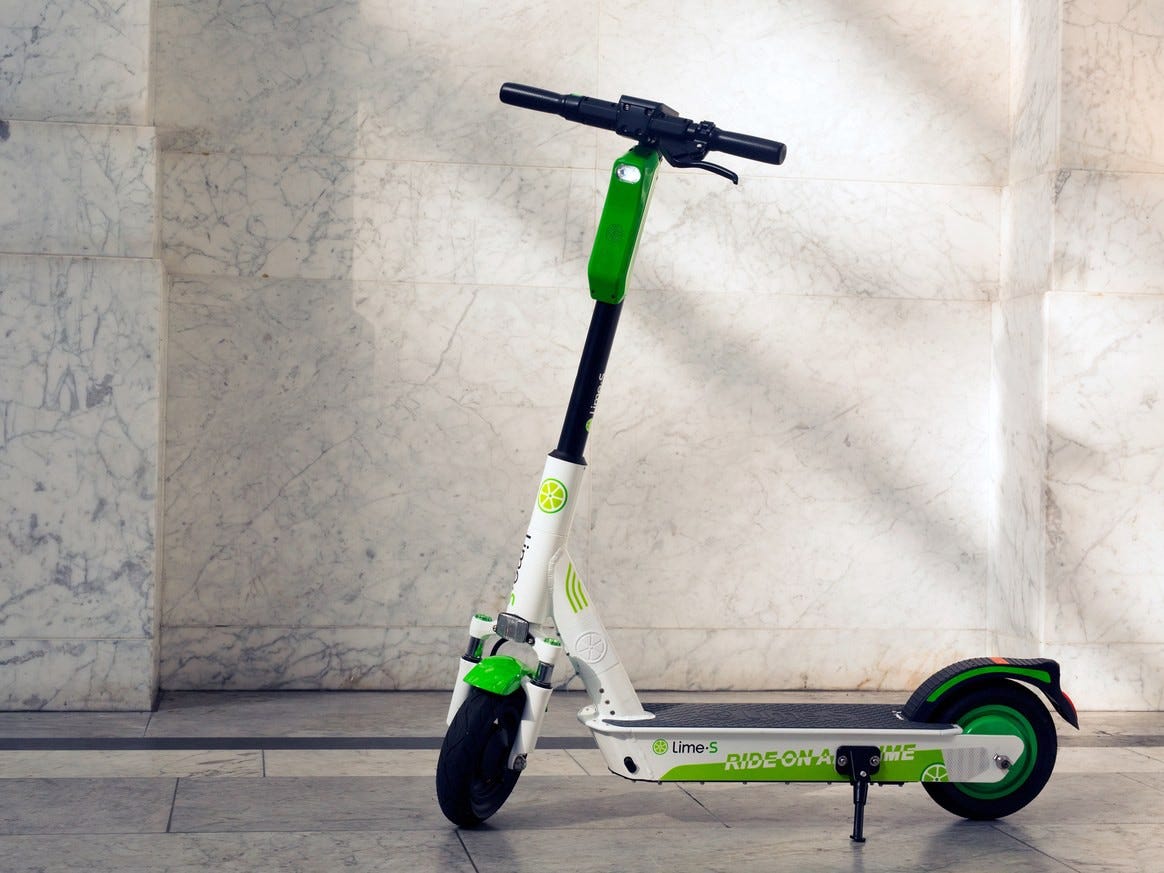 Uber Freight launches 'Powerloop', a trailer leasing business for carriers. | Reuters
After months of testing, Lyft launches a $299 monthly subscription plan to the masses. Will scooter and bike rides be included in the future? | TechCrunch
Lime is launching its first scooter 'lifestyle brand store' in Los Angeles. "There will be deployment of scooters, charging of scooters, and some sales of apparel and accessories that are related. There will be demos, tutorials, and presentations on how to be safe."  | Techcrunch
BMW integrates ParkNow into vehicle infotainment systems. | ParkNow
Location location location: Positioning's next act. | Yehoshua Zlotogorski
EV charging comes to Google Maps. | Google Maps Blog
Waze: Does Carpool hold the key to reducing congestion? | The Mobility Club
Micromobility
When micromobility attacks: Electric car sales decline in India as electric mopeds continue to grow. "46 electric heavy scooters are sold for every electric car". | Financial Express
Skip scooters begins to rollout vehicles with a retractable lock in San Francisco. Currently there are no cities that require scooters to have a 'lock-to' mechanism. | Wired
Direct-to-consumer eBike startup Cowboy raises $11.5 million to expand across Europe. | Venture Beat
Scooter startup Grin raises $45m. The company is currently live in Mexico City and plans to expand rapidly throughout Latin America. Grin claims that Latin America is more favorable for scooters with better weather, higher population density, more bike lanes, and cheaper labor for charging and rebalancing. | TechCrunch
A class-action lawsuit was filed Friday in California against Bird, Lime, Xiaomi and Segway. It accuses the companies of "gross negligence" and "aiding and abetting assault." | Washington Post
PBOT released survey results from 4,500 Portland scooter riders. Some highlights:
85% of Portlanders view scooters favorably.

45% percent of survey respondents reported "never" biking and 78 percent had never used BIKETOWN (Bikeshare system) prior to using scooters.

30% say they use scooters for commuting.
Micromobility data policies: a survey of city needs. | Remix
TNCs
Uber is updating its Rider App with a design refresh and a new ride recommendation engine as the company pushes towards a multimodal first world. "The lifetime value of ridesharing users is so high that it's worth losing a couple of bucks here or there to keep users from straying to multi-modal competitors like Lyft." | TechCrunch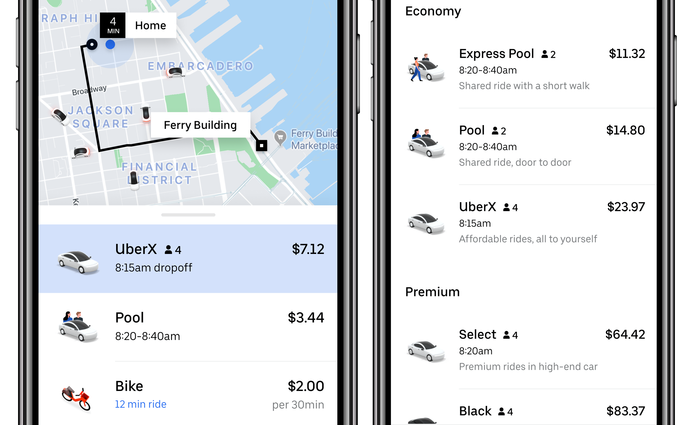 Uber dynamically recommends different ride types.
Uber is looking to go public at a valuation of $120B. | WSJ
Lyft and SF partner to offer free bikeshare for SFSU students. | SF Examiner
UberEats eyes launching a commerical drone delivery service by 2021 called 'UberExpress'. | WSJ
TNC marketshare in the US: Uber leads but Lyft is gaining ground. | SecondMeasure
Is Uber the Enemy or Ally of Public Transit? "The combination of public transit and Uber can make it possible to complete all desired trips without owning a car, or for families to own just one car, the study concludes." | CityLab
Grab hires an Amazon vet as its transport business CTO in Seattle. | Geekwire
Cities & Policy
A Right to the Digital City. | Richard Pope and Andrew Eland
King County Metro in Seattle launches an on demand ridehailing service for shuttles to and from transit. | King County
Five Ways to Redesign Cities for the Scooter Era. | Bloomberg