Movements | October 23rd, 2019
Issue #69 -  Brought to you by Michal Naka and Adam Feldman. Join thousands of others who receive this analysis and curation of emerging mobility news in their inbox every week — subscribe now.
---
Ridehailing & Carsharing
Turo's CEO explores why fleet-based carsharing is dead. "Cars continue, however, to find their relevance in longer trips — weekend getaways, jaunts out to the suburbs, longer vacations — and that's where peer-to-peer car sharing shines." | Andre Haddad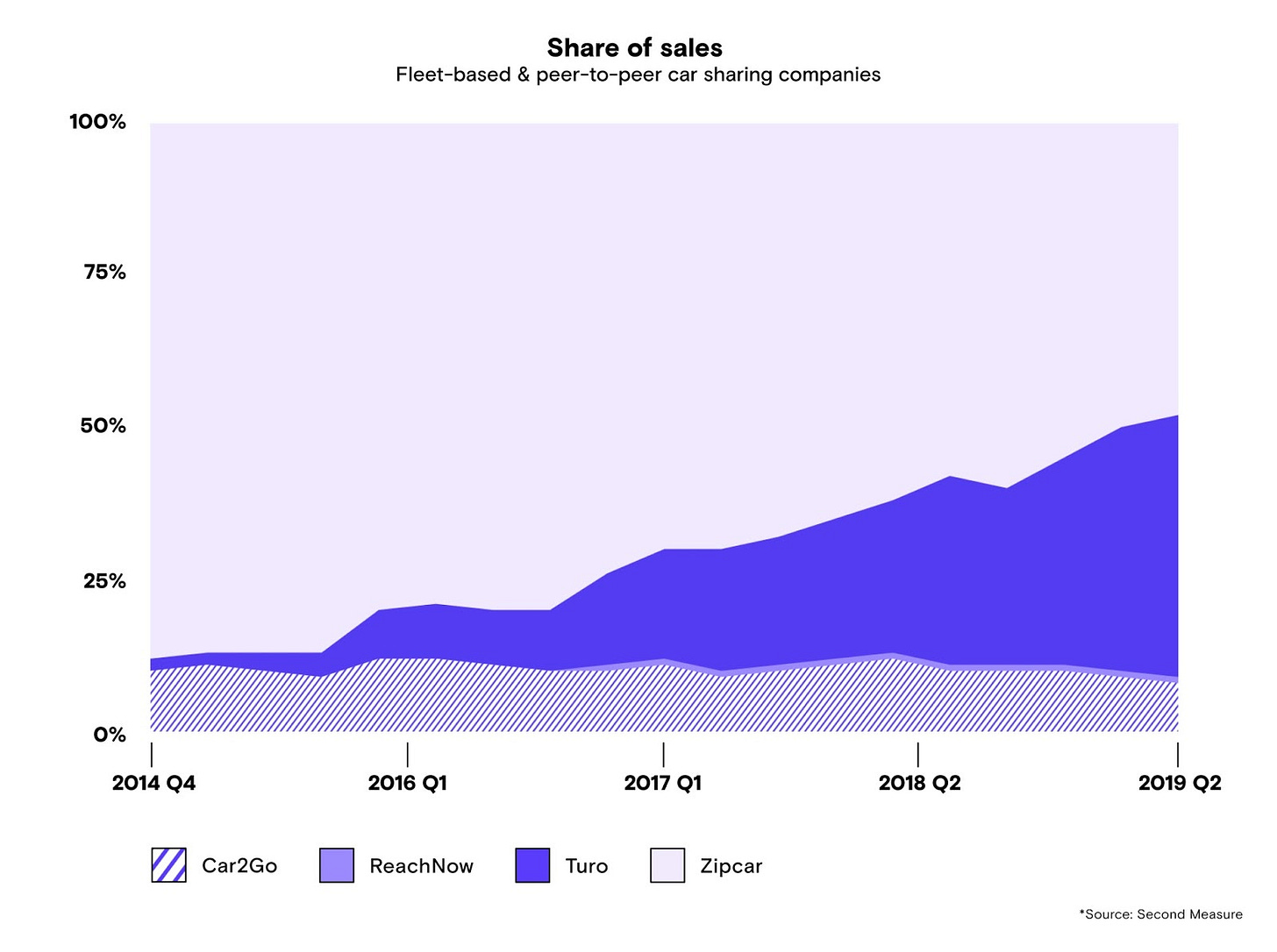 GoJek CEO and co-founder has resigned from the company to join Indonesia's cabinet. | Reuters
A new study reveals tipping trends on Uber: roughly 16% of Uber rides are tipped, 1% of riders always tip, men tip more frequently than women, and female drivers tend to be tipped more than male ones. | The Verge
An interview with Waze CEO Noam Bardin covering their growing carpool service that hit 550,000 rides in September. | Barrons
Micromobility 
Indian shared moped operator Bounce has hit 100,000 daily trips in Bangalore. | Vivek
A glimpse into how Lime's field operations team works. | Block Club Chicago
Bird launched in Luxembourg earlier this month after the city had repeatedly rejected meetings with 7 different scooter companies over the past two years. | Bloomberg
Stéphane Schultz puts together an in-depth presentation outlining how cities can help make micromobility sustainable. "New operators are banking on the fact that the growth in usage will force authorities to create the necessary infrastructure." | Stéphane Schultz
Bike maker Giant says that their eBike sales are up over 30% year over year and expect to ship over 600,000 units by the end of 2019. | Bike EU
Unagi compiled a comprehensive guide to electric scooter laws for the US and globe. | Unagi
Cities & Policy
Conveyal did an analysis on how shared micromobility can enable more people in Seattle to access frequent public transit and jobs. | Conveyal
LA Metro launched an on-demand first/last mile transportation pilot with Via, funded by FDOT's Mobility On Demand Sandbox program. The early data shows that it's successful on most KPIs, but not quite hitting their utilization goals just yet. While the article itself isn't the most positive, LA Metro's included statements provides many reasons (and lots of data!) to be optimistic, including citing a successful implementation of a similar program in Seattle.  | Streetsblog

Product Launches & Updates
Bird rolls out the long awaited Bird Cruiser moped/eBike form factor in San Francisco and Los Angeles. | The Verge
Joyride revamps is platform that enables anyone to launch a scooter operation in 24-hours. | Joyride
JUMP is testing scooter and eBike surge pricing in Dallas and Tampa Bay. "The price will range from 15 cents to 45 cents per minute. It will be higher in places where the scooters are typically used and lower where they're often parked." (H/T to Reilly Brennan).  | Dallas Morning News
Toytota is debuting an ultra compact battery electric vehicle at the Tokyo autoshow. "The vehicle has a maximum range of 100 kilometers (62 miles) per charge, and a top speed of just 60 kph (37.2 mph)." | Digital Trends
Uber rolls out public transit data integration in New Dehli. | Uber
Fundraising & Deals
BMW and Daimler are looking for outside partners and investors for their mobility joint venture. Related: How do Automakers make money from mobility?  | Automotive News
Jobs
Hiring for an interesting role? Want your posting featured in Movements? Fill out this form.