Discover more from Movements
A monthly newsletter covering emerging trends in mobility services and transportation.
Over 4,000 subscribers
Movements | October 29th, 2018
Issue #21! brought to you by Michal Naka and Adam Feldman. If you'd like this newsletter delivered to your inbox every Monday, you can subscribe here.
Events
Just under 100 days until the Micromobility California conference on January 31, 2019. Movements subcribers can get 40% off with the special promo code: 'Moveme'. | Micromobility CA
Product Launches and Updates
Lime formally announces its plans to launch a carsharing service. Details are still sparse, but it appears they are partnering with 'dealerships and automakers'. | Lime
Verra Mobility, previously American Traffic Solutions, launches a consumer-facing mobile app for toll payment across the United States | GovTech
Micromobility
It was only a matter of time but the first automaker has broken into the scooter sharing space. Ford Smart Mobility launched a scooter service called 'Jelly' on the campus of Purdue University. We fully expect that more OEMs will start experimenting with their own dockless mobility service in the coming years.. err… months. Related: Ford's partner Ojo electric is starting its own sharing service. | The Verge
The first scooter share merger is in the books as Mexican City scooter startup 'Grin' merged with Brazilian startup 'Ride'. The two will merge under the Grin name and go head to head with Brazil's dockless mobility company Yellow, along with Bird and Lime in LATAM. | Techcrunch
Are dockless scooters actually the most accessible form of new mobility for some users? Related: Rio Mobility offers a product to electrify any wheelchair in seconds. | Alice Grossman
Bikeshare firms in China start to reduce vehicle deployments in major cities as the market cools. "Beijing now has 1.91 million bikes operated by nine companies, down nearly 20% compared to the peak number." | Technode
An excellent piece looking at Bird's pitch to investors, including unit economics and ridership numbers. Here're a few highlights:
Bird generates $3.65 per ride.

Spends $1.72 per ride on charging costs.

Uber and Lyft plan to spend $1 billion on scooters and bikes.
Instead of electric cars, India is starting to focus on electrifying two and three-wheelers. "As many as 11,000 new e-rickshaws hit the streets every month, and annual sales are expected to increase about 9 percent by 2021." Ridehailing firm Ola plans on launching 10,000 e-rickshaws in service by next April. | Bloomberg
Hey cyclists, electric scooters are not the enemy. | Bicycling
Remember Wheels, the scooter with a seat, from a few weeks back? Here's a look at the venture backed company bringing seats to the scooter sharing race. "It dropped 200 e-scooters in San Diego last weekend with plans to scale up to 1,500 there and 3,000 in Los Angeles". | The Information
An excellent photo essay on the state of micromobility in Beijing | Ryan Croft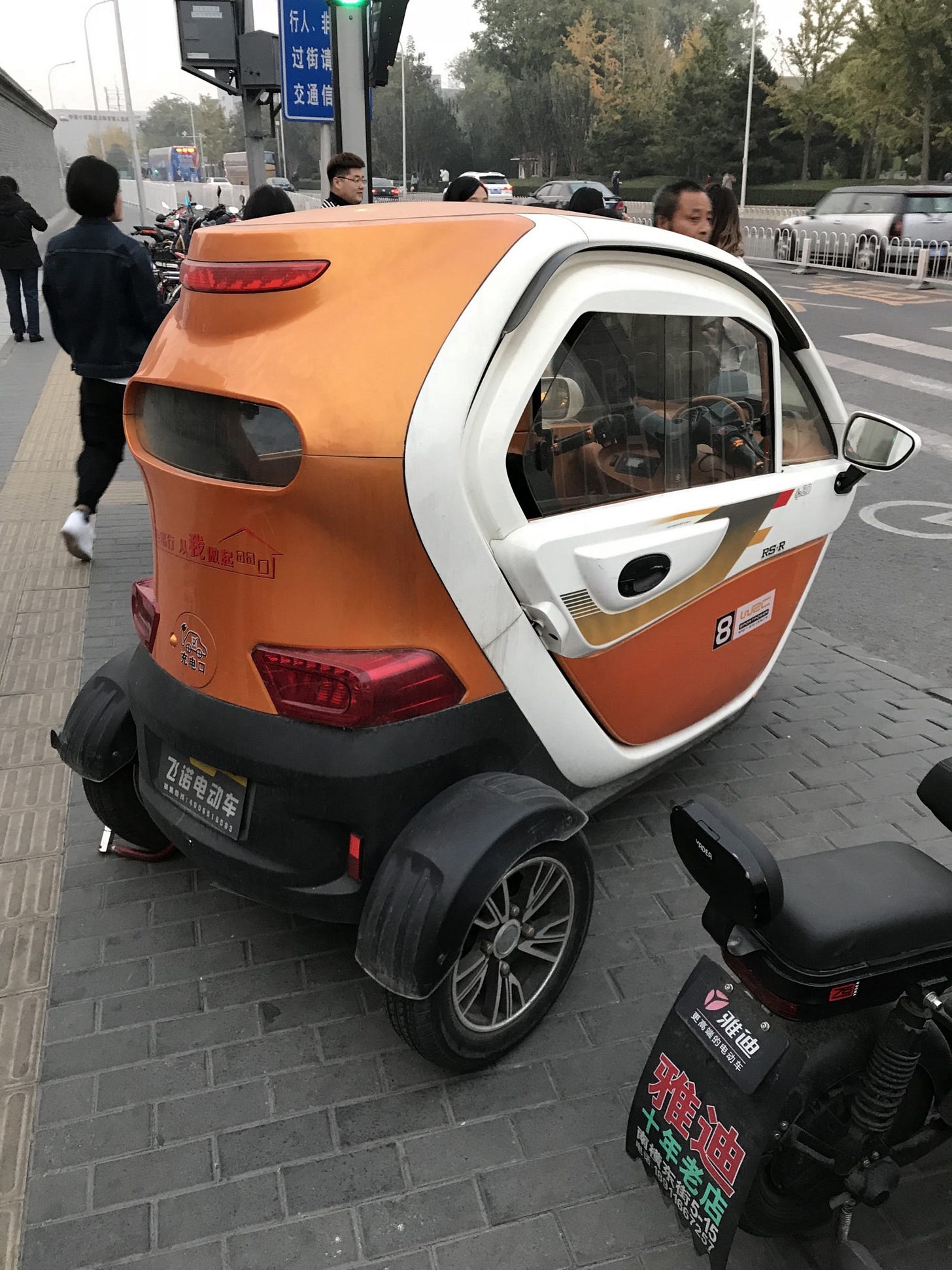 One of the futuristic mini-EVs that Ryan spotted on his trip
TNCs
Grab continues to double down on payments and financial services with a MasterCard partnership. The ridehailing firm wants to own mobility, from transportation to economic, as it works to bring the cash based Southeast Asia economy online. The partnership enables tens of millions of GrabPay eWallet users to pay at merchants on the MasterCard network with a physical prepaid card. | Grab Blog
Uber Eats is the Trojan horse to acquire customers in regulated ridehailing markets. "Over the last year, 40% of new Uber Eats users are new to Uber, driving platform growth." Related: Uber is considering delivering groceries. | Bloomberg
CityLab goes deep on Whim's mobility as a service offering and shares some insights into how they're viewed by transit agencies as well as some neat stats: 60,000 MAU in Helsinki have booked over 1.8m trips | CityLab
One of the best takes on Uber's plans for Jump | FastCompany
"One of the most important factors that convinced me we've got to get Jump is that the average length of trip is 2.7 miles," says Khosrowshahi. "Thirty-five percent to 40% of Uber rides are 2.7 miles or less. So this product can sit right on top of the Uber product."

"each bike is being used heavily–on average between seven and 10 times a day"

"If we can be that service that allows you to get anywhere in a city, cheaply and efficiently, that would be a win, no matter how it adds up," he says. "That's a service I think everyone in a city is going to want to use."
Cities & Policy
Washington DC plans to launch five 24/7 pickup and dropoff zones for Uber and Lyft, as cities across the world are re-evaluating how curbspace is allocated. | Washington Post
France is considering a new transit bill that would enable any city with over 100,000 residents to levy a congestion charge on vehicles | CityLab
The City of London and Uber are working to move every driver on their network into an EV by 2025. The shared + electric parts of the Big Shift are underway!| Uber
One more thing
We want your feedback, dear readers! Please take one minute to fill out this form so that we can improve your Movements experience.