Discover more from Movements
A monthly newsletter covering emerging trends in mobility services and transportation.
Over 4,000 subscribers
Movements | October 30th, 2019
Welcome to a special edition of Movements. We want to welcome Tarani Duncan as a guest editor this week. Tarani is a veteran in the shared micromobility space and has worked at places like JUMP, Motivate, and Mapbox. 
---
Tarani here - I am a product and operations strategist with a background in shared mobility, currently advising for companies like Zoba, Tortoise, and ElectricFeel.

The ability to access location is the physical manifestation of our opportunities in life; making mobility less painful for more people is a critical effort. My favorite way of engaging mobility is through spirited collaboration with cities, building products that delight all end-users and creating strong relationships with the teams of builders and maintainers who facilitate the experiences that get us all where we're going. These compelling aspects of modern mobility--cities, riders, industry contributors--are thoughtfully highlighted across all issues of Movements. 
I love this newsletter and am grateful for the opportunity to be DJ'ing Movements this week from Boston, where I am working with Zoba to build tools that help shared mobility operators capture untapped demand. This week I saw Zoba surface demand currents that weave through our cities as surely as actual rivers do, a visual that says "Drop your vehicle here for it to be caught in the not-so-lazy river of high-earning ridership patterns".

If you're interested in reading more about me, you can check out my website. Otherwise, feel free to connect with me in realtime on Twitter. Big thanks to Movements' readers for being an amazing community of folks.
Ridehailing & Carsharing
Ryde, a Singapore-based carpooling app, is entering Malaysia with a cash-only, not-for-profit business model. | Mashable SE Asia
Which begs the question -- can mobility services ever be profitable?  Some are. Regina Clewlow reminds us of profitable transportation schemas, like 1950's-era private public partnerships, some of today's airlines, and privatized mass transit services in Asia. | Forbes

Ensuring patients are showing up to their appointments inevitably impacts individual health outcomes. Uber Health, the healthcare arm of you-guessed-it, will partner with Cerner to schedule non-emergency transportation on behalf of patients, caregivers, and staff. Reliable transportation to and from appointments reduces hospital operating costs by improving patient no-show rates. | Forbes

Lyft drivers are suspicious because the app no longer lets them see how much individual riders are paying. | Jalopnik
VW weighs expanding ride-hailing business, Move, to Ghana. | Reuters
Micromobility 
In order to induce mode switch, you need the right tool for the job, which often means a place for passengers and cargo. A new documentary explores a growing subculture of women and families ditching cars for e-bikes. | Star Tribune.
Harley-Davidson's international sales are rebounding. Harley's fastest-growing market is smaller bikes, a departure from the company's traditional profile. | Reuters.
After losing $5.2 billion in the second quarter, Uber cites two and three wheelers as its fastest growing segments, framing India as a mostly 'untapped' market. | Bloomberg
This year, Tokyo Motor Show is not just about cars: organizers set up areas where attendees tested ultra-small form factors, like Toyota's i-Road, a tiny car barely bigger than a motorcycle; Yamaha's MW-Vision, a covered scooter with lean-control tech; and Wind Mobility's long-range kickscooter. | Bloomberg.
Susan Carpenter takes to the streets of Los Angeles with Lime Juicers where the company operates a fleet of 5k, paying Juicers $3 to $10 per retrieved scooter. Chargers drive between a half mile and two-and-a-half miles per scooter. A study found ride-hailing companies could save $1.03 per mile by cross-training Uber and Lyft drivers. | NYT
Amazon struggles to gain traction in Brazil against incumbent MercadoLibre. Amazon relies on subscription-based services as a gateway to online orders. E-commerce in dense areas of Brazil relies heavily on smaller modes, like e-bikes, motorbikes, and scooters. | Bloomberg.
Lime spins up team of workers in Paris, urban patrol, that combs streets and waterways for discarded or badly parked scooters. | Reuters
Cities & Policy
Drivers killed the most pedestrians and bicyclists in almost 30 years. Cyclists deaths are up 6% over 2018. The number of women killed while cycling jumped 29.2 percent in 2018, compared to just 3.2 percent for men | The Verge.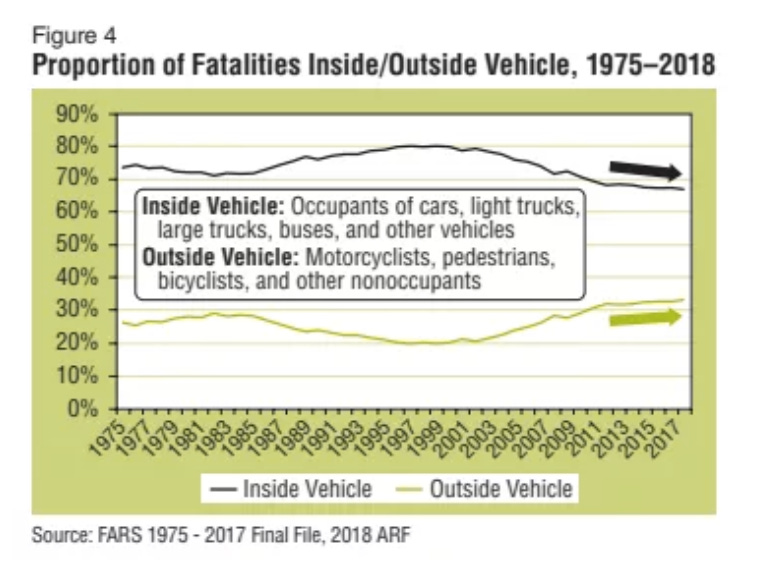 NYCDOT is experimenting with a blend of waterway incentives and curb management initiatives to keep up with its 1.5M daily last mile deliveries, which has tripled in the last two years. | NYT

LADOT wants to assess the impact of app-enabled navigation on congestion, safety, and driver behavior on neighborhood streets by launching a pilot which would restrict navigation applications like Apple Maps, Google Maps, Waze, and Tom Tom from routing in residential parts of Sherman Oaks Hills. | Twitter
Chicago Mayor Lori Lightfoot considering higher ridesharing fees. | Bloomberg
France introduces new rules for the use of electric scooters, banning scooters from sidewalks and limiting speeds to 15mph. | BBC
A Georgia Senate committee is studying statewide regulations for electric scooters and made a powerpoint capturing scooter-related statutes adopted across the United States | Georgia Senate Research Office
Product Launches & Updates
Lyft launches `Lyft Pink` a $20-a-month subscription service that's more cost effective than the company's $299-a-month `All-Access-Pass`. | The Verge
Coord has expanded its curb data coverage to 5 new cities: Vancouver, Atlanta, Boston, Denver, and Chicago. | Coord
Swytch bike designed an updated e-bike conversion kit model that is 50% lighter and 70% smaller than their viral 2017 model. | Digital Trends
Swiftmile launching 10 "gas stations" for electric bikes and scooters in Austin. | Tech Crunch
Ahead of Milan Motorcycle Show, Italian two-wheeler company Ducati, unveiled a new lineup of bikes, including a trio of new e-bikes, the MIG-RR, the MIG-S, and the E-Scrambler | Digital Trends
Fundraising & Deals
Chinese electric-car maker NIO loses CFO, raises $200 million from Tencent Holdings Ltd. to create spin-off business | Bloomberg