Discover more from Movements
A monthly newsletter covering emerging trends in mobility services and transportation.
Over 4,000 subscribers
Movements | September 17th, 2018
Issue #15! brought to you by Michal Naka and Adam Feldman. If you'd like this newsletter delivered to your inbox every Monday, you can subscribe here.
Micromobility 
Scoot shipped a brand new app design with electric scooter support in preparation for their San Francisco permit launch. Interestingly, Scoot partnered with Singapore scooter share company Telepod to use their vehicle design. Also, they appear to be hiring a Director of Vehicle Engineering to "Develop and launch the best urban EVs globally!" | Scoot
The electric scooter boom — and cities' misguided attempts to squash it — explained. "Cars (and before them, railroads) transformed the world, in part because they're inherently useful but largely because we decided to build infrastructure that allows them to be useful rather than decreeing that they should be banned because they were a nuisance to the existing users of the old infrastructure." | Vox
A teen was injured in Seattle when his Lime eBike crashed into a tree after the brakes failed in what appears to be a deliberate vandalism attack. Vehicle vandalism continues to be a big concern that needs to be addressed in the world of shared mobility.| Komo
Spin looks to launch its scooters in Lexington, Kentucky with a 1-year exclusive contract. "Spin data shows that electric scooters are used ten times as often as pedal bikes and other shared mobility devices." | Kentucky
Spanish dockless scooter startup Koko launches in Zaragoza, Spain. | Koko
BMW developed a self-driving motorcycle, but only to improve the vehicle dynamics control system. Expect to see more developments in autonomous micromobilty soon. | BMW
TNCs
How Go-Jek has evolved into a super app and integrated itself into so many different facets of everyday life. | Go-Jek
Uber rebrands, again. | Uber Design
Here's why Uber isn't a bundle, at least not yet, and why Uber's Amazon for Transportation strategy will work. | Stratelogical
A behind-the-scenes look at Uber's Fleet P2P product that connects owners and drivers together. | Uber Engineering 
Uber tests showing its own traffic data in-app. | Techcrunch
Lyft hires former Tesla energy executive as VP of Infrastructure Operations. | Techcrunch
And finally, another must-read blog post on how Uber is building the packet switched network for the physical world | John Mark Nickels
Product Launches and Updates
Citymapper launches Siri voice commands for iOS 12. Now you can check your commute or next time arrivals without opening the app. | Citymapper
Lyft is launching a public transit data integration in its app in Santa Monica this week. You'll be able to enter a destination and see travel times and costs for scooters, bikes, public transit, and of course the Lyft services you already know.| Curbed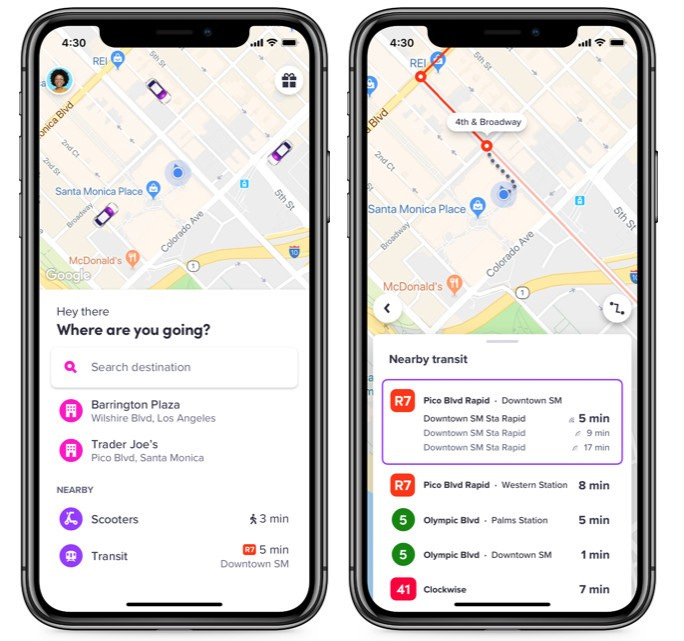 Lyft Transit & Scooter Integration. 
Mapillary teams up with Amazon to recognize and read text in their database of over 350 million street-level images. | Techcrunch 
Didi rolls out in-car audio recording as part of its safety overhaul. "Recordings will be uploaded to the company's servers as encrypted files and will delete automatically after seven days if no complaint is filed." | SCMP
Cities
Carsharing in 1971. | Romain Serman
As mobility evolves, so too must city streets. | Remix
London starts enforcing ultra-low emission zones in a pilot that bans gas, diesel, and older hybrid vehicles from a number of streets during weekday rush hour. | BBC
Investments
Brazilian dockless bike and scooter startup Yellow raises a $63 million Series A. | Techcrunch
Uber is investing $150 million to expand engineering offices in Toronto. | Techcrunch