Discover more from Movements
A monthly newsletter covering emerging trends in mobility services and transportation.
Over 4,000 subscribers
Movements | September 25th, 2019
Issue #65 -  Brought to you by Michal Naka and Adam Feldman. Join thousands of others who receive this analysis and curation of emerging mobility news in their inbox every week — subscribe now.
Micromobility
Micromobility operator Bolt joins Bird by now making its fleet model "BoltChariot" and "BoltOne" scooters available to purchase by the public. Both vehicles feature dual cameras, Bolt's 'MobilityOS', and access to Bolt Service Centers. Bolt claims that you can earn extra income by renting out your personal vehicle in your local shared Bolt fleet. | Bolt
Cities are experimenting with 'geo-fence' technology, which require micromobility operators to cut vehicle power or reduce speed in certain geographic areas like parks or plazas. This can lead to less than ideal ride experience for users who are already struggling to navigate cities that lack basic infrastructure for non-auto road users. Reducing vehicle speed oftentimes clogs bike lanes and incentivizes users to ride on sidewalks. |  LA Times
Who uses Brussels' scooters? | The Bulletin
Remember next time you hear about scooter complaints in your city: "Just saw some City of San Diego numbers showing 74 percent of scooter complaints come from the same 10 people." Official data.  | Jeremy Ogul
Fehrs and Peers released a market assessment for shared bikes and scooters."This spatial analysis approximates the suitability of urbanized areas for shared micromobility services, considering land use and transportation factors as well as entertainment, tourism, and education destinations." | Fehrs & Peers
Ridehailing
Uber launches "RideCheck", a new safety feature  that monitors if your ride deviates from its expected path or detect if you were in a crash. Here is a video demo of the features in action.  | Mashable
Lime is shutting down its 'LimePod' free-floating carshare experiment down in Seattle. "Lime says it is shutting down the LimePod service because it couldn't find a partner to deploy an electric fleet."  | Geekwire
New Investments & Deals
Toyota AI Ventures invests in a Series A extension for Skip Scooters. CEO & co-founder Sanjay Dastoor expounds more about the Toyota investment on Twitter: "We invest more upfront cost in diagnostic sensors and a module architecture, then we identify problems sooner and can get a vehicle safely back on road faster. That means more rides and less cost."  | Toyota AI
Landline has raised a seed round from Upfront Ventures. They're building out a simple, consistent, and reliable bus service that connects rural customers to airports. | TechCrunch
BlaBlaCar is acquiring Busfor, a platform for bus trips in Russia. This follows last year's acquisition of Ouibus, SNCF's bus platform, and sets them up as a major competitor to FlixBus in Europe. | VentureBeat
Product Launches & Updates
Square's Cash App had started to partner with transit agencies to offer "Boosts" to riders who pay with their Cash card. | Luke Beard
Lyft made some major changes to their iOS app this week, making scooters, bikes, public transit, car rentals, shared rides, and regular old Lyft rides available right when users open the app. | Lyft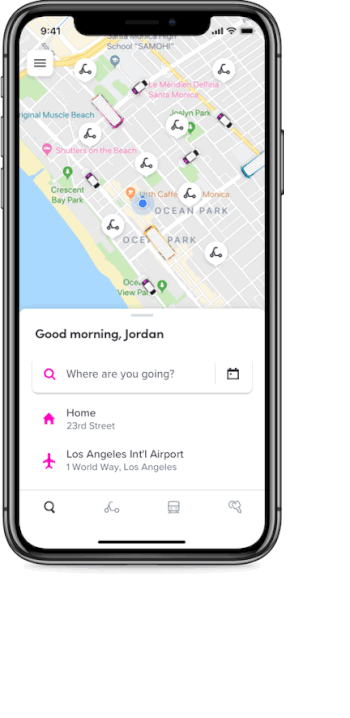 Lyft's app is also starting to show bike lanes. Let's hope for some directions in the future! | Engadget
Postmates partnered with Phantom Auto to bring teleoperations to its fleet of sidewalk delivery robots. "Cars are two-ton machines that are moving at 50 miles an hour making millisecond decisions that are very consequential from a risk point of view. They can't really stop and think and ask for help. On a sidewalk, you can stop any time and ask that remote operator who is always monitoring. You're only moving at 3 miles an hour and weigh 100 pounds or so." | Forbes
Amazon made some big news this week as they committed to becoming carbon neutral by 2040. One of the biggest pieces of this effort will be moving Amazon's entire delivery and logistics operations to a fleet of 100,000 electric vehicles that they're purchasing from Rivian. | NY Times
Musings
Kara Swisher provides an update on her attempt to live without owning a car. "Overall, I'd say I've used cars about half as much as before, and my total spending on transportation is less than what I used to spend when I had a car." She also notes that travel and logistics require a lot more planning now, she's more sensitive to transit delays, and has increasingly relied on last-mile modes like e-scooters to pair with public transit. | NY Times
San Francisco, like most US cities, is awash in parking. There's just so much of it. Michael Keating dives into some ways that we could repurpose that space and how it might transform the city. | Michael Keating